(Reading Time:
3
minutes)
Growing up in small town Pennsylvania, Rupe's father was a factory worker, and their home was modest. Rupe, who was white, was captivated by the music coming from a local black Baptist church. After his education — and working in shipbuilding in Los Angeles during World War II — Rupe decided to get into the entertainment industry. His first investment, in a record company, fizzled — he couldn't compete with big record company distribution. Rupe came up with an idea to study what made a record sell, pouring $200 into what were then called "race records" — music marketed to Black audiences, including blues, jazz, and gospel. Or, what he called "the crumbs off the table of the recording industry." His analysis: the secret of a good-selling recording was a big band-like sound, but with a "churchy feel." He frequented music clubs in Watts, the Black section of Los Angeles, to find such acts to bring in for recording. He and a friend founded Juke Box Records in 1944 and did pretty well: "Boogie No. 1" by the Sepia Tones reportedly sold 70,000 copies. But apparently, his business partner didn't quite see things the way Rupe did, so he cut ties and went out on his own.
Rupe started a new record company without a partner so he could call the shots. One of his first finds for his Specialty Records label was R&B and swing singer-songwriter Lloyd Price. Price's first record with Specialty, "Lawdy Miss Clawdy", was a hit, followed a few years later by his million-selling "Personality". Lloyd suggested a friend, Richard Wayne Penniman, who had found limited success recording for RCA and Peacock Records, send an audition tape to Rupe. He did, and — once the rude lyrics were cleaned up — the first record Rupe produced was a sensation under Penniman's stage name, Little Richard: "Tutti Frutti". A band in Britain had good success performing it live from at least 1960 to 1962: The Beatles. Even Queen played it during their 1986 Magic Tour. The British music magazine Mojo called Little Richard's original number 1 in its list of "The Top 100 Records That Changed The World". Rolling Stone says Richard's a capella "A-wop-bop-a-loo-mop-a-lop-bam-boom!" intro — his vocal representation of a drum riff — "the most inspired rock lyric ever recorded."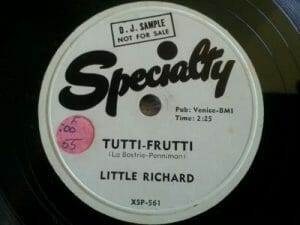 So what really was the importance of Rupe bringing Black music to mainstream audiences in the history of rock? "Rock and roll as we know it," said the Rock & Roll Hall of Fame in a statement, "would not exist without 2011 Inductee Art Rupe. As founder of Specialty Records in 1945, Rupe brought R&B and soul into the mainstream and helped ignite the rock revolution." Rupe continued to recruit new talent, finding hits from Roy Milton, Percy Mayfield, Larry Williams, Guitar Slim (with Ray Charles on piano!), Don and Dewey, Sam Cooke, John Lee Hooker, Clifton Chenier, Jimmy Liggins, and more. Rupe said his success didn't come from any particular business ability, but rather his skills as a recording producer. He sold his label in 1991. "Specialty Records' growth paralleled, and perhaps defined, the evolution of Black popular music, from the 'race' music of the 1940s to the rock n' roll of the 1950s," said music historian Billy Vera. Arthur Newton Rupe died at his home in Santa Barbara, Calif., on April 15. He was 104.