(Reading Time:
4
minutes)
Growing up in Iowa, Fries listened to country music, and in 1950 moved to Omaha, Neb., taking a job at a local TV station as a commercial artist. He made $35 a week, and won an award from the Omaha Artists and Art Directors Club. That got the attention of an Omaha advertising agency, which hired him as its creative director in 1960. He worked on ads, including for Mutual of Omaha Insurance and the Union Pacific Railroad. He put his musical talents to use by writing "A Great Big Rollin' Railroad" for Union Pacific; the track was used on many TV commercials. Fries (pronounced "freeze") created a slide show with five screens to showcase the agency's talents, which lured in a new client in 1973, Metz Baking Company. "I talked to Bill Metz, the president of the company, and said, 'What do you wanna do?' He said, 'Well we have this product called Old Home Bread and we want it to be noted, and get an image created for this bread.'" Boy, did Fries come up with an image! Since the agency's art director and copywriter were busy on another project, Fries did the concept himself. The 60-second TV ad featured an Old Home Bread truck making a delivery, and the truck driver was the star. He dubbed the driver "C.W. McCall" — "C.W." for "Country Western" and "McCall" from McCall's magazine, because it was "a good name."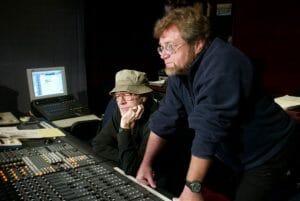 Fries wrote a one-minute song to tell the story, and hired an actor to play McCall. The actor had the right look, but the wrong voice. "I went to the studio there in Omaha and recorded what I thought it should sound like with the words I had written for the commercial," he said. "The people at the studio said to me, 'Why don't you do the voice?'" Done: the actor lip-synched the lyrics recorded in Fries' booming low voice. The resulting spot [included below] was so popular, people in the region would call local TV stations to ask when it would run so they could watch it again. The spot won the top national award for advertising, a Clio, in 1974, and several spots followed to develop the relationship between McCall and cafe waitress Mavis Davis. "We were just trying to sell bread," Fries said. "It was something that just took off and spoke to the right things at the right time." The attention spread to MGM records: they liked the compact and attention-getting song, and suggested he make a single — a 45 RPM record — for them. He wrote the lyrics while a friend, Chip Davis, who later went on to found the group Mannheim Steamroller, wrote the music: "Old Home Fill'er Up and Keep on Trucking Cafe" shot to No. 10 on the Billboard Country chart …and MGM asked for an album.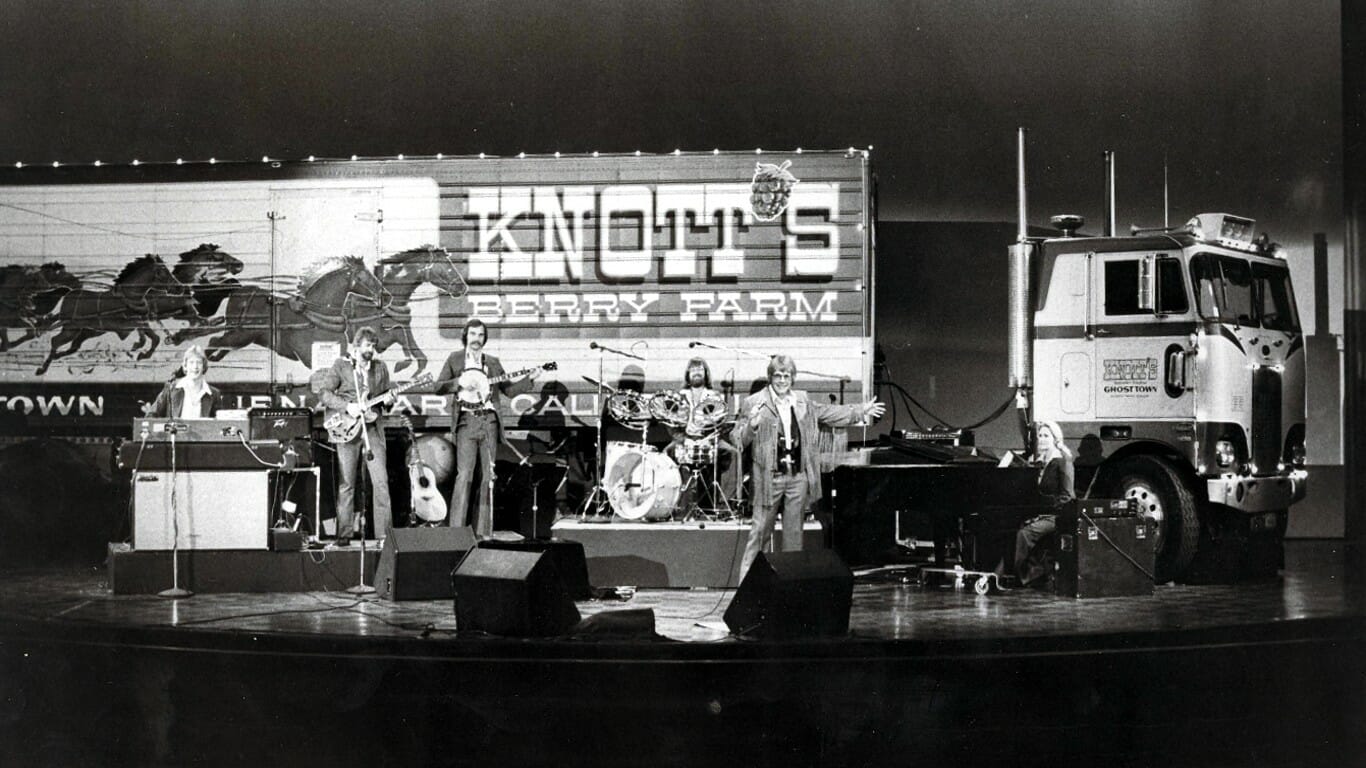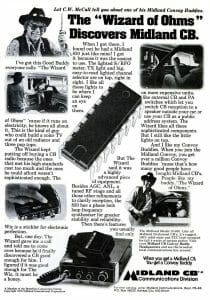 Fries had taken on the name "C.W. McCall" for himself, and he and Davis wrote and recorded nine more songs for January 1975's "Wolf Creek Pass" (the title song was based on a real mountain pass over the Continental Divide in Colorado). Fries liked to vacation in the small mountain town of Ouray, Colorado; other songs featured other places in Colorado. The album hit No. 4 on the Country chart; MGM wanted another album. "Black Bear Road" (named for a rugged mountain road between Ouray and Telluride) was released in September 1975, and was also a hit: No. 12 on the Pop chart, and No. 1 on Country. A single was released featuring the title song, which did well, but the 45's "B side" was the real hit: radio listeners went wild for the track, called "Convoy" [also below], which sold so many records that the album went gold — and "Convoy" not only hit No. 1 on the Pop chart, it was the basis for the 1978 feature film Convoy, starring Kris Kristofferson and Ali MacGraw, giving a huge push to the Citizen's Band Radio fad of the time. "Bill Fries' 'Breaker 1-9' is how that big song started and sold millions of copies worldwide," Davis said. "I wrote the music separately and I never heard his words until we got into the studio. What a wordsmith and what a voice." In 2014, Rolling Stone ranked "Convoy" No. 98 on their list of 100 Greatest Country Songs.
After four more albums, Fries decided he didn't like the touring life of a hit musician, and retired to Ouray. He was popular enough that he was elected mayor, running on a campaign to rebuild City Hall, which was modeled on Philadelphia's Independence Hall and had burned down in 1950. "Here I was a mayor in the town, and even though I had given up on the music career, a lot of people had found out about this, and we got contributions from all over the country and even from Europe." Fries loved the surrounding mountains so much he created the multimedia San Juan Odyssey, featuring the mountains and narrated by himself. The medium? Five-screen projection. It ran for 17 years and, sure enough, begat another album. William Dale Fries Jr. — aka C.W. McCall — died April 1 under hospice care at his home in Ouray, from cancer. He was 93.
The First Hit TV Commercial
Convoy's Official Music Video