(Reading Time:
3
minutes)
Born in Quantico, Va., at age 9 Shul went to an air show and saw the Navy demonstration squadron Blue Angels perform. "I'm like, 'Whoa'" when he saw them, he said later. "It reached in, grabbed my soul, never let go." After graduating from East Carolina University (in History) in 1970, he joined the U.S. Air Force. He was sent to Vietnam, where he flew 212 support missions for the CIA's "Air America" before being shot down in 1973. Shul crash-landed in the jungle near Cambodia, sufferering burns over 60 percent of his body, but he managed to evade enemy soldiers and radio for help. He was rescued by a Special Forces pararescue team, and was evacuated to a hospital in Okinawa, but doctors doubted he would survive.
After two months he was airlifted to the Institute of Surgical Research at Fort Sam Houston, Texas, where he spent a year as, he put it, "119 pounds of blood and gauze" — and endured 15 surgeries and nearly daily physical therapy. Worse, doctors told him he'd never fly again. "I kept saying, 'God, just please let me die. I can't do this. You picked the wrong guy. I'm not strong enough." But after seeing children playing outside his window, he decided he must survive. "When you lie on your back for a year, you get in touch with what's important in life and yourself and you learn that you have an inner strength greater than any muscles your body ever provided," he said. "I was highly motivated to get back to flying, even though I knew there was a one-in-a-thousand chance." When he was discharged, doctors warned him he'd never walk again, either, but two days later he was at the controls of an Air Force fighter jet. Not in combat, of course: he became a flight instructor for the A-10 Thunderbolt II, as well as being on the team that demonstrated the capabilities of the attack jet.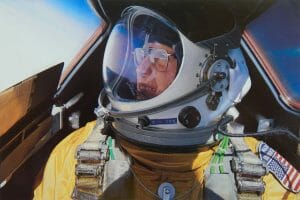 He also got to fly with the Blue Angels himself — and the USAF Thunderbirds. For his last assignment in the Air Force, he volunteered to fly a very special jet, and he was accepted to fly the SR-71 Blackbird — the world's fastest jet — as long as he passed the astronaut-style physical exam. He did, with no waivers needed. Shul may be best known as the pilot in a classic story he told many times in public presentations. It happened while he was flying the SR-71 over southern California; "Center" is the non-military air traffic control, and Aspen 20 is the SR-71's radio callsign:
I heard a Cessna ask for a readout of its ground speed. "90 knots," Center replied. Moments later, a Twin Beech required the same. "120 knots," Center answered.

We weren't the only ones proud of our ground speed that day, as almost instantly an F-18 transmitted, "Ah, Center, Dusty 52 requests ground speed readout." There was a slight pause, then the response, "620 knots on the ground, Dusty."

[Then Shul and his recon officer jumped in.] "Center, Aspen 20, you got a ground speed readout for us?" There was a longer than normal pause. "Aspen, I show 1,942 knots."
1,942 knots is 2,234 mph, or 3,595 kph. "No further inquiries were heard on that frequency," Shul said. Shul is the only SR-71 pilot (there were only 93) who ever flew three missions in three days: over Libya to document terrorist camps for President Ronald Reagan in 1986. Ground forces fired a missile at him, but the SR-71 easily outran it. He once said he told his reconnaissance systems officer, Maj. Walt Watson, who rode behind him to operate the cameras, radios, and electronic jamming equipment, "that if we were ever captured, he was the spy and I was just the driver. He told me to keep the pointy end forward."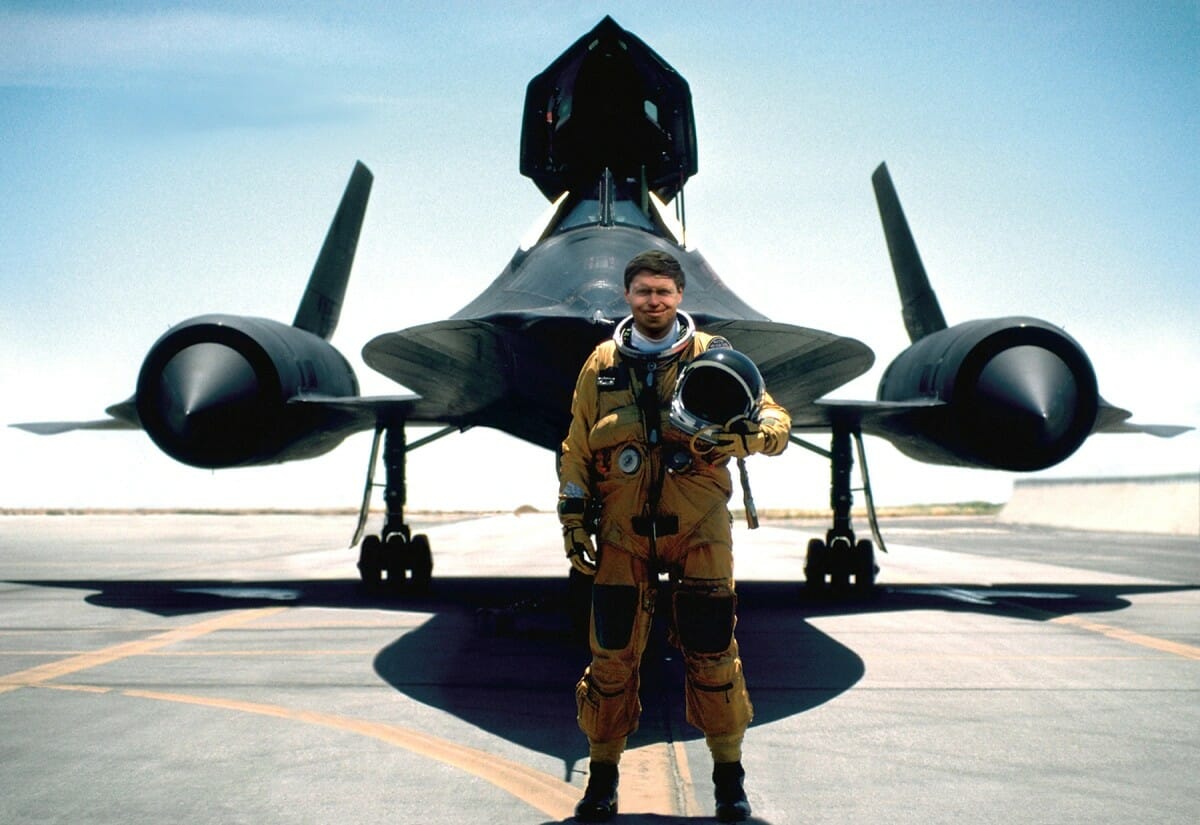 After retiring from the Air Force as a Major in 1990, Shul wrote books (all out of print) and was an accomplished nature photographer, in addition to an inspirational — and instructional, for military pilots — speaker; example talk below. He collapsed while giving his famous SR-71 presentation for an audience in Reno, Nev., on May 20. He was rushed to a hospital where he was pronounced dead from cardiac arrest. Brian Robert Shul was 75.
---