(Reading Time:
2
minutes)
Born in West Virginia to Hungarian immigrant parents, Csuri attended Ohio State University — where, as Captain of the football team, he led OSU to its first national championship. Csuri was offered a contract in the NFL, but turned it down, joining the rest of the team in joining the military: it was 1942. He fought in the Battle of the Bulge, and was awarded a Bronze Star for his bravery. He minimized his role in the battle, saying that every soldier landing in Normandy should have been given the same award. After the war, Csuri returned to OSU to get his Master's degree in Fine Art, and joined the school's faculty.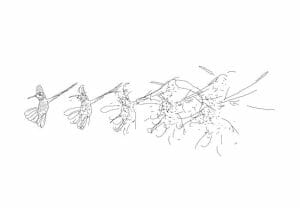 Csuri's own work was apparently good: his paintings were collected by museum benefactor and collector Walter P. Chrysler Jr., movie actor Jose Ferrer, pop artist Roy Lichtenstein, and sculptor George Segal. In 1963, someone used the school's mainframe computer to print out a character-based art image, and Csuri was intrigued. "I believe I was the first artist with any serious art credentials to work with the computer," he said. Smithsonian magazine agreed: as the "father of computer art," it said in 1995, he "may be the nearest thing, in this new art form, to an Old Master." There was no software back then to create art on a computer: Csuri had to learn to program the computer himself to make it output the concepts he had in his mind. By 1967 he was even doing animation: his video concept art of a hummingbird in flight was quickly acquired by the Museum of Modern Art. "What he did was way ahead of his time," said Barbara London in 1998, who was MOMA's associate curator of film and video. "I put him in a league with people like Ed Emshwiller, who came out of painting and science-fiction illustration. They really had a vision of how to use these tools."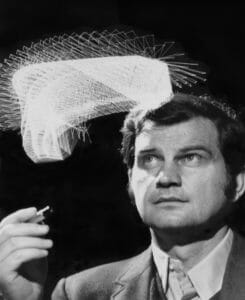 "I try to play at the edge of reason and absurdity," Csuri said of his combination of art and computers. "It's an invitation to something alive." He branched out to also teach computer science at OSU, and his students built on his ideas, including working on films like Star Wars (1977), Jurassic Park (1990), and Toy Story (1995). His students created the "Dancing Baby" that was a recurring vision on the TV series Ally McBeal starting in 1998, which created a sensation. Csuri founded the Advanced Computing Center for the Arts and Design at OSU, and co-founded the Ohio Supercomputer Center — and Cranston/Csuri Productions, one of the first computer animation companies. His concepts have also been applied to flight simulators, visualization of scientific phenomena, and MRI scanners. In 2011, he received the Award for Lifetime Achievement in Digital Art by the Association for Computing Machinery's SIGGRAPH (Special Interest Group on Computer Graphics and Interactive Techniques). Charles "Chuck" Csuri died February 27. He was 99.