(Reading Time:
3
minutes)
In the early 1930s, the Jacobson family immigrated to Minnesota from Norway, and then moved to Portland, Ore. But as he and his sister grew up, they talked about "the promised land" — the sunny warm beaches of southern California. The family moved there in the mid-1940s. Jacobson studied physics and engineering at Manual Arts High School and then Los Angeles City College. In his off hours, he liked bodybuilding, racing cars, and working at a mechanic's garage. He also joined the U.S. Marine Corps Reserve (Air Corps) so he could get close to, and study, jets. After he was married, he enjoyed motorcycle racing.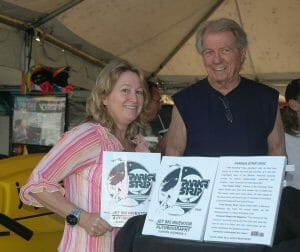 Jacobson found racing in the Mojave Desert …hot. To beat the heat — and show off his bodybuilding results — he got rid of his leather clothing and padding. Sure enough he crashed during a race. He and a friend escaped the heat by lying in an irrigation ditch, talking while digging the gravel out of the road rash on his neck, arm, and shoulder. Jacobson mused aloud that what the world really needed was a way to get the thrill of motorcycles without worrying about falling and getting hurt. It didn't percolate in his mind for long: that night he sketched out his idea, a "motorcycle for the water." He quit his job to work on the idea full time, and had the first prototype working by 1965. Made out of aluminum, it was powered by a West Bend two-stroke motorcycle engine powering a Berkeley jet pump. He made a dozen prototypes in all, ranging from the stand-up first one to more refined models where the rider could sit down, and was smart enough to patent his innovations. The second prototype caught the attention of Bombardier Recreational Products, which mostly made snowmobiles, and asked to license his patents. The result was the Sea-Doo (1968-1970), the name being a twist on their Ski-Doo snowmobiles. When that license ended he moved to Kawasaki, which introduced the Jet Ski in 1973.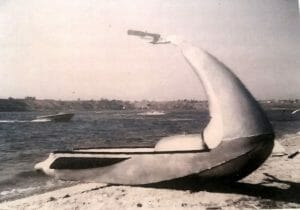 But by 1976 he accused Kawasaki of falsely claiming to have invented the Jet Ski, and obtaining patents in Japan that were actually made from his own designs. He sued and was awarded $21 million, not the $30-60 million he wanted. He and the company then went into closed negotiations. That resulted in statements by Jacobson giving credit to Kawasaki for making "important contributions" to the company's model, and Kawasaki acknowledging that Jacobson is "widely known as the inventor of the first stand-up personal watercraft" and that "without Mr. Jacobson's invention, Kawasaki's Jet Ski brand of personal watercraft would not have been developed." Plus undisclosed financial compensation. Jacobson then licensed his patents to Yamaha. In retirement he and his wife took up flying, and flew his Cessna around the world. They had homes in Parker, Ariz., and Australia. Jacobson died on August 18 in Byron Bay, NSW, Australia. He was 88.