(Reading Time:
3
minutes)
A British graphic designer, Forbes took an unusual approach to setting up a design firm: a strong desire to have a multidisciplinary team. The co-founders of the resulting new company, Pentagram, named for the five "star" founders: Theo Crosby (architect), Kenneth Grange (industrial designer), Mervyn Kurlansky and Alan Fletcher (graphic designers), and Forbes. With the power behind such a mix, the firm designed everything from the 1997 LTI TX1 version of the famous London taxicab, to corporate "identities" — Forbes himself created the first logo for the Japanese auto builder Nissan when it changed its name from Datsun. He also created a poster for the Campaign Against Museum Admission Charges to protest against a 1970s government plan to charge museum visitors. The poster was made up as a petition, which was "signed" by artists (Rembrandt, Van Gogh, Johannes Vermeer, and more). It was so brilliant, so attention-getting, that to this day, the British national museums still do not charge an admission fee.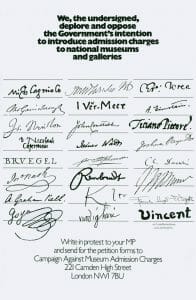 While also continuing his design duties as a partner, and writing books to pass on his knowledge, Forbes sought to keep the firm going long term. "Historically, only one or two out of thousands [of design firms] has ever continued into a second generation," he observed, while big accounting and consulting firms do. "The challenge is to run what we believe to be an excellent design-driven firm into a second generation." To do that, the founders set up the corporate structure not only to make the partners both creatively and financially equal, but also to favor incoming partners, not the ones retiring. Incoming partners are not only required to have a "national reputation as an outstanding professional in the chosen discipline," but must be able to generate business because "other partners do not want to become salesmen." They are also responsible to ensure the firm stays profitable. In return, since talented newcomers can't pay 10x earnings for a share of the company, outgoing partners must sell back their shares at asset value only ("retirement pension schemes are our individual responsibilities," Forbes said). Did it work? Forbes retired to a North Carolina horse farm in 1993, and all of the other founding partners have also left or retired, yet the firm continues today with 23 partners and more than 200 employees working in three countries.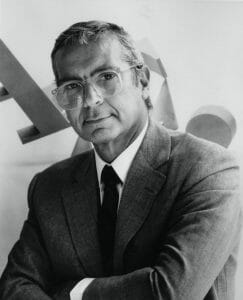 "I never had a thought I could be standing up in front of the board of Neiman Marcus telling them how I could improve their business in Dallas," but he and Pentagram were so influential he did just that. In 1991 Forbes was awarded the American Institute of Graphic Arts' AIGA Medal, its highest honor, for his lasting impact on design, culture, business, and society. "Forbes has concentrated his splendid energies on nothing less than designing the practice of design itself," the Institute said. "That makes him a designer's designer in quite a special sense." Forbes died at his North Carolina home on May 22. He was 94.