(Reading Time:
2
minutes)
A TV comedy director and producer, he broke into showbiz with The Many Loves of Dobie Gillis as a dialogue supervisor, and by age 25 was directing the show. He was a script supervisor for the pilot of Gilligan's Island, worked on My Mother the Car, Get Smart, and Love, American Style before his real big break: producing The Mary Tyler Moore Show. In addition to writing several episodes, Davis directed the title sequence. Moore threw her hat in the air in one bit, and then scrambled after it when it landed in the street. Davis decided it was perfect as-shot …once he ordered that the hat be frozen in place to end the sequence.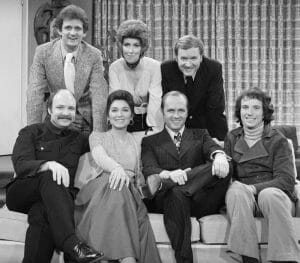 Davis and his writing partner — Lorenzo Music — were invited to create another show, and trusted enough to come up with "whatever they wanted." Davis suggested someone he had tried to cast for an MTM episode: a comic he liked named Bob Newhart. "I was in heavy duty therapy at the time," Davis said in the decision to make Newhart's character a psychologist. "Bob listens funny. And he's a reactive." The base "was that we wanted to give him a life at home. We wanted to do a show like The Mary Tyler Moore Show, where he lives and where he works." Not, he said, a show with kids where the show is centered on a dumb dad creating problems. "Why don't we have him married? But it's a young marriage, it's a new marriage, it's a first marriage for both. And so you could do a show about marriage using young married problems, but with mature people. And that, I think, is the key to the success of this show." It was a hit.
Meanwhile, Davis also worked on the MTM spinoff Rhoda (1974-1978) where he met co-star Julie Kavner — and married her. Kavner is now best known as the voice of Marge Simpson. Davis, meanwhile, was given the opportunity to create yet another show with his MTM cohorts, which became another classic: Taxi (1978-1983), and was responsible for casting Danny DeVito. "He put me on the map," DeVito said. Davis retired from TV in 1979, once Taxi was fully established. "He left for the love of his life" — Kavner — DeVito said, "but it was OK because we were already on our way." Taxi co-creator James L. Brooks was happy for him. "Dave cared deeply about the work, and I think that may be one of the reasons he gave it up, because he could give that caring to everything else. It's not like he stopped working or thinking. He was there if you needed him. But he did the thing that people daydream about. He made it real." Davis died in Los Angeles on November 4. He was 86.