(Reading Time:
3
minutes)
Growing up in Oregon, Fosbury was a track and field athlete at Medford High School, but was in danger of being cut from the team because he couldn't clear the minimum jump height: 5 feet. The dominant technique in that era, the "straddle technique," was (Wikipedia says) "a complex motion where an athlete went over the high-jump bar facing down, and lifted his legs individually over the bar." Fosbury just couldn't do it, so he began to experiment with other ways of accomplishing the high jump. "I knew I had to change my body position," he said later, "and that's what started first the revolution, and over the next two years, the evolution." The rules of the high jump simply require that competitors leap from one foot (after a running start); they don't say anything about how the athlete gets over the bar, he or she just has to do it without knocking it down.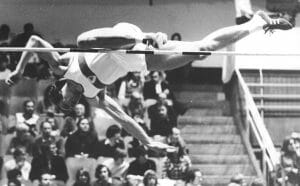 Fosbury's coach wasn't pleased by his efforts: he went over the bar face up, kicking up his legs at the last second to clear. That meant he landed on his back, but Fosbury was aided by a stroke of luck: around that time high jump pits filled with sawdust were being replaced by safer foam rubber cushions piled several feet thick. The coach stopped objecting to the technique when Fosbury, then a Junior, cleared 6 ft 3 in — a school record. The next year he broke 6 ft 5 in. Still, sports reporters and critics weren't impressed, calling it an "airborne seizure." Even the local Medford Mail-Tribune newspaper was dismissive, captioning a photo in 1964 "Fosbury Flops Over Bar" (adding in the caption, "like a fish flopping in a boat.") The name stuck: the technique became known as the Fosbury Flop.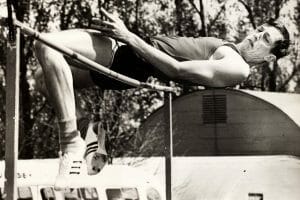 Then Fosbury won gold with the technique at the 1968 Olympics in Mexico City, clearing 2.24m (7 ft, 4-1/4 in), which remains his personal best. That high-profile win spread the Fosbury Flop worldwide. At the next Olympics (Munich, 1972), 28 of the 40 high jump competitors used the Fosbury Flop, and it grew from there. "A lot of people questioned it at first," he said in 1981, when he was inducted into the USA Track and Field Hall of Fame. "But eventually they realized that was the easiest way to high jump. Now, that's the only way you see anyone high jump. I just wonder what would have happened if I had quit before 1968." He was elected to the U.S. Olympic Hall of Fame in 1992.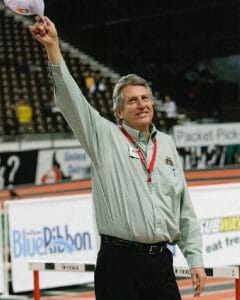 Fosbury didn't attend the 1972 Olympics: he was busy completing his degree in civil engineering at Oregon State University, graduating in 1972. After a successful career in that field in Idaho, he tried politics, but lost his 2014 bid for a seat in the Idaho House of Representatives. In 2019, he was elected as Commissioner in his county. In 2008 he had been diagnosed with stage-one lymphoma; surgery and chemo cleared it up. In 2009, with fellow Olympians Gary Hall and Anne Cribbs, Fosbury was a founder of World Fit, a non-profit that promotes youth fitness programs and Olympic ideals. In early 2023, his cancer returned: Richard Douglas Fosbury died from it on March 12, a few days after his 76th birthday.