(Reading Time:
3
minutes)
Growing up in Los Angeles — and being the son of Donald Trumbull, who created visual effects for The Wizard of Oz in 1939 — Trumbull seemed to be a natural for Hollywood, but he wanted to be an architect. Part of that was learning to be an illustrator …which led to a job with Graphic Films, which made shorts for the U.S. Air Force and NASA, including To the Moon and Beyond for the 1964 World's Fair in New York. That film caught the eye of director Stanley Kubrick, who was working on an ambitious film of his own — 2001: A Space Odyssey (1968). But Kubrick decided to move production to England, and canceled the contract with Graphic Films.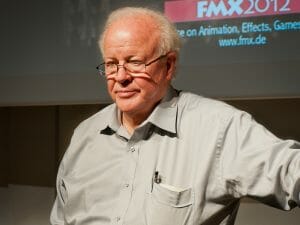 Trumbull didn't take that lying down: he called Kubrick on the phone (he got the number from his boss) and described the work he had already done on the film. Kubrick flew him to London to keep working on the film, inventing techniques as he worked. "[Kubrick] would say, 'What do you need to do it?'," Trumbull remembered later, "and I would have complete carte blanche, which was wild as a young guy." Later, "by the time I was doing the Star Gate [effect], he would say, 'What do you need?' and I'd say, 'Well, I need to go into town and buy some weird bearings and some stuff,' and he would send me off to town in his Bentley, with a driver, into London. It was great!" So was the film and its ground-breaking visual effects; Trumbull was continually promoted until he was one of the film's four special effects supervisors. He was hooked, and well regarded in Hollywood.
Trumbull produced the special effects for Andromeda Strain (1971), which led him to write the story for, and direct, Silent Running (1971). He was too busy to accept an offer from George Lucas to produce special effects for Star Wars, but he did that job for Close Encounters of the Third Kind (1977), and Star Trek: The Motion Picture (1979). Then it was on to Blade Runner (1981). "One of the things that appealed to me about the project," Trumbull said in a later interview, "was that it was not a space movie." By then he was "tired of doing spaceships against star backgrounds." As agreed with Ridley Scott, Trumbull left that film half-way through production to take on another directorial job, for Brainstorm (1983).
That film turned into a fiasco when co-star Natalie Wood drowned during a break in production. He was eventually able to finish the film despite MGM trying to scuttle it to take the insurance money. But Trumbull was burned out, and retired, but was lured back to be a Vice Chairman of IMAX Corp., develop the Back to the Future Ride at the Universal Studios Theme Park, and continue technical development of special effects techniques. He was nominated for three Academy Awards, and in 2010 was inducted into the Science Fiction Hall of Fame as an "innovative master of special effects." He was also given a special Oscar, the 2012 Gordon E. Sawyer Award, dedicated to an "individual in the motion picture industry whose technological contributions have brought credit to the industry." He suffered a stroke after being diagnosed with lung cancer, and died on February 7. He was 79.