(Reading Time:
2
minutes)
At age 9, Robinson, who was born in Washington, saw a photo in the Seattle Post-Intelligencer showing Igor Sikorsky flying his VS-300 helicopter. He was so captivated he became an aeronautical engineer, working — usually just for a couple of years each — at a series of well known helicopter manufacturers, including Cessna (on the CH-1 Skyhook), McCulloch Aircraft Corp. (specifically on "inexpensive" rotorcraft), Bell, and Hughes — before starting his own company at his southern California home in 1973: Robinson Helicopter Co. Why start from scratch? Because Robinson was convinced there was a market for small "personal" helicopters, and none of the companies wanted to address that market segment.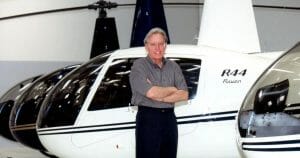 At his home, Robinson designed the R22 two-seat chopper, directed its prototype's construction in a hangar at the Torrance Airport, and was its first test pilot in 1975. The chopper was a hit, which helped fund the next model: the larger four-seater Robinson R44, which first flew in 1990. By 1999 the R44 was the best-selling general aviation helicopter in the world — an honor it has repeated every year since. The American Helicopter Society awarded Robinson the Igor I. Sikorsky International Trophy in 1991, and again in 1992. He was subsequently honored by the Society of Experimental Test Pilots, the U.S. National Academy of Engineering, the Royal Aeronautical Society, and the American Institute of Aeronautics and Astronautics, honoring his "conception, design, and manufacture of a family of quiet, affordable, reliable, and versatile helicopters."
Robinson planned to retire in January 2010, but he postponed that so he could finish overseeing the design of the next model, the five-seat (plus cargo compartment) R66 Turbo. That was completed in August of that year, so he retired; the Board elected his son, Kurt, as company President. Franklin Davis Robinson died at his home in Rolling Hills, Calif., on November 12. He was 92.