(Reading Time:
2
minutes)
When he was 16, Buckles (shown below in his enlistment photo on August 14, 1917) quit school and lied about his age to get into the U.S. military. The country was at war: the "Great War" or "the War to End All Wars", it was called at the time; we now call it World War I. The Marines rejected him because he was too thin; the Navy for being flat-footed. But the Army took him, and he was sent to England. He volunteered to be an ambulance driver, since he heard that would be the quickest way to get to the Western Front. He thus didn't see much of the fighting himself, but "I saw the results," he often said. After the armistice, he first worked to repatriate German POWs, escorting them home. Then he was a purser on commercial ships, and happened to be in the Philippines in December 1941 — where he was captured by the Japanese. He was a prisoner of war, even though he was not serving in the military, and nearly died before he was rescued in a raid 38 months later. He married in 1946, and worked as a salesman; in 1953, he bought a cattle farm in West Virginia, and lived for the rest of his life there.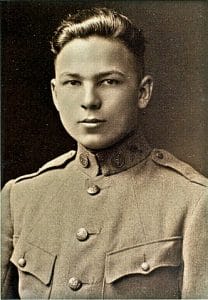 On February 4, 2008, with the death of Harry Landis, Buckles became the oldest-living American WWI veteran, out of 4.7 million. "I knew there'd be only one someday," he said on hearing the news. "I didn't think it would be me." What was his secret to a long life? "When you think you're dying," he would say, "don't." Still, Frank "Wood" Buckles died February 27, at 110, and will be buried at Arlington National Cemetery.
Note: Only two other WWI veterans — out of about 65 million — survive today: Claude Choules, 109, a Royal Navy seaman living in Australia, and Florence Green, 110, who served at a Royal Air Force base in the U.K., where she still lives.