(Reading Time:
4
minutes)
Born in Tipp City, Ohio, Halderman went to the Dayton Art Institute, graduating in 1954. He quickly got a job as a designer at Ford Motor Company, where he rotated through assignments in various vehicle design departments: Lincoln-Mercury, the company's "Advanced" studio, Ford Preproduction, the Truck studio. In 1958 he was promoted to manager of the Advanced studio, where he led the designs of multiple concept cars, including the Levacar, the Mark IX, the X Sixty Five, the Astrion, the 1961 Continental, and the Gyron.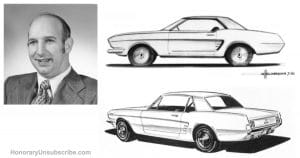 In the early 1960s, Ford started a "special car" project for an entirely new concept vehicle, but it was kept pretty secret. company executives ruminated on what they should call the new car: Allegro, Avanti, Torino, and Cougar were all suggested. In late July, 1962, "I was busy working on the 1965 Ford Galaxy," Halderman recounted years later, "and my boss, Joe Oros, told me that there was a meeting at 8:00 a.m. to pick a design for a new car, and he wanted me to do some drawings. I told Joe I'm busy working on this project 'til 11:00 each night, and he said he didn't care, do some sketches. So late that night I did four or five, and brought them in at 8:00 the next day. They put a whole bunch up on the wall, and kept going along and finally, they picked mine, but it was only the side view."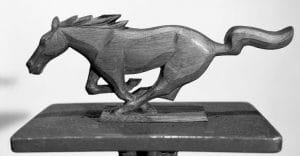 Later, Ford market research manager Robert Eggert, who bred quarterhorses on the side, suggested the winning name: Mustang, after a book his wife gave him called The Mustangs. Designer Phil Clark came up with the car's logo: a galloping horse, going toward the left — toward the wild west, rather than to the right as a racetrack spectator would see. The "pony car" was born*. To get attention for the project, Ford vice president Lee Iacocca decided it should be introduced in the spring, rather than typical fall debut for new cars. He decided to introduce it at the World's Fair in New York on April 17, 1964, and factory production started on March 9. On April 15, new third-grade teacher Gail Wise borrowed money from her parents for a new car, and told the salesman she wanted a convertible. The salesman showed her a car in the back under a tarp, and she loved it — and Wise, then 22, became the first person to buy a Mustang, before it was even announced for $3,447.50. She still owns it, and today, fully restored by her husband, is worth $350,000-450,000, according to Hagerty Classic Insurance, experts on collector cars.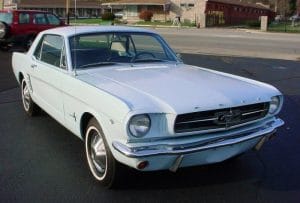 The company expected the car to be so popular that it might sell 100,000 units in its first year. Three months after its debut it zoomed past that number, and the "1965" model sold 418,000 units; it also won the Tiffany Gold Medal for excellence in American design — the first automobile ever to do so. With minor design changes for 1966, sales broke a million vehicles within 18 months of the car's original production. Other companies rushed to compete, with Pontiac introducing the Firebird in 1967, AMC the Javelin in 1968, and Dodge the Challenger in 1970. Halderman, meanwhile, was promoted to the director of the Truck studio in 1968, though new Ford President Bunkie Knudsen still brought him onto teams to design new cars. "I guess it worked out OK," Halderman said years later; "I stayed there for 40 years, the last 27 years as director of design." In retirement, he opened a Mustang museum at his farm back in Tipp City, Ohio, "decorated with automobile artwork contributed by many of the designers he worked with at Ford," the company says. Ironically, Halderman never owned a car until he bought a 1965 Mustang for the museum. "As great of a designer as he was," says Jimmy Dinsmore, author of Mustang by Design: Gale Halderman and the Creation of Ford's Iconic Pony Car, "he was an even better human being." Halderman died April 29, from liver cancer. He was 87.
Web Extra:
Logo concepts were put on full-size test models of the cars (both photos courtesy of Ford):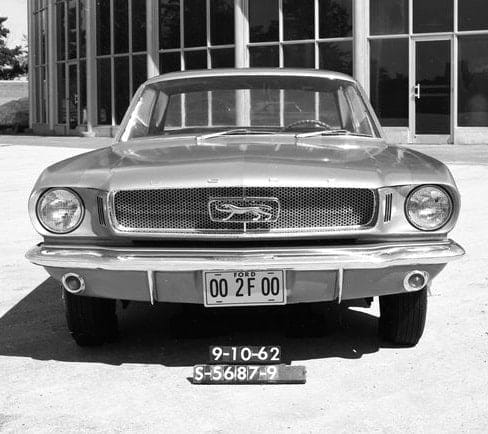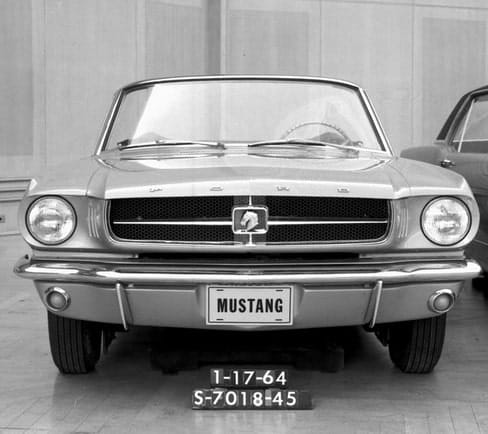 Author's Note: Contrary to my understanding that the "pony car" was called that after the horse motif of the Mustang, apparently that's not so. The classification is for affordable, compact, highly styled coupés or convertibles with a "sporty" or performance-oriented image, Wikipedia says, with the common characteristics of rear-wheel drive, a long hood, a short deck (trunk) lid, a wide range of options to individualize each car, and the use of mass-produced parts shared with other models. The first one that met the definition: the Plymouth Barracuda, which went on sale just before the Mustang, on April 1, 1964.