(Reading Time:
2
minutes)
After growing up in New York and getting her law degree from Harvard, Kessler worked as a government attorney for seven years, and then opened a public interest law firm. That only lasted 8 years, since she was tapped to be a judge for the D.C. Superior Court. But that "only" lasted 17 years, since she was appointed as judge for the U.S. District Court for the District of Columbia, which put her at the center of quite a few high-profile court cases.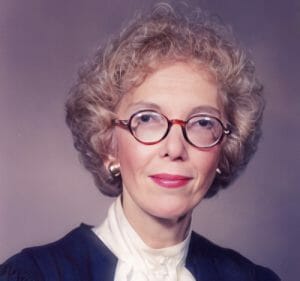 One of those was a lawsuit brought by the U.S. Department of Justice against tobacco companies — Philip Morris, R.J. Reynolds Brown & Williamson, Lorillard, Liggett Group, Inc. American Tobacco, Altria, British American Tobacco, the Council for Tobacco Research, and the Tobacco Institute. "The Government alleged that Defendants have violated, and continue to violate, the Racketeer Influenced and Corrupt Organizations Act ('RICO')," she wrote in her Final Opinion seven years(!) later, "by engaging in a lengthy, unlawful conspiracy to deceive the American public about the health effects of smoking and environmental tobacco smoke, the addictiveness of nicotine, the health benefits from low tar, 'light' cigarettes, and their manipulation of the design and composition of cigarettes in order to sustain nicotine addiction."
That 2006 Final Opinion took 1,683 pages to lay out her findings: that the evidence overwhelmingly established that the companies violated RICO, and "marketed and sold their lethal product with zeal, with deception, with a single-minded focus on their financial success, and without regard for the human tragedy or social costs that success exacted." The decision ordered the companies to repair the false communications it had put out to the public by instead telling the truth. For instance, "By using descriptors such as 'lights' and 'low tar,' Defendants knowingly convey the false impression that cigarettes with those labels are less harmful than other cigarettes." All the companies appealed, but the Court of Appeals unanimously upheld the verdict in 2009, but did negate the order to surrender billions of dollars in profits. The U.S. Supreme Court refused to hear the case.
Judge Kessler also heard cases regarding detainees at the U.S. military prison at Guantánamo Bay, Cuba; she was the first judge to consider whether the executive branch was violating the Detainee Treatment Act. She also ruled on the Affordable Care Act, and the administration of Medicaid. She retired in 2017 after 23 years on the bench. "I knew I wasn't fit for certain jobs that women were expected to take, like teaching, secretarial work," Kessler said in 2013 about her career choices. "And I wanted a job that would be intellectually challenging for a lifetime." She got it. Kessler died in Washington D.C. from pneumonia on March 16. She was 85.