(Reading Time:
2
minutes)
A pilot, Eby received the Air Medal in 1946 for his services in the U.S. Navy in World War II. Like many military pilots, after discharge he became an airline pilot — in this case, for American Airlines in 1950. When the McDonnell Douglas DC-10 widebody tri-jet came out in 1970, Eby flew that plane for the rest of his career.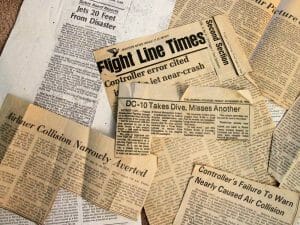 On November 26, 1975, as captain of American Flight 182 from Chicago to Newark, N.J., Eby found the air he was flying in choppy thanks to poor weather; visibility was low due to clouds. A flight controller in Cleveland, Ohio, approved an increase in altitude from 34,000 ft to 37,000 ft to see if he could get above the weather. What the flight controller failed to do: warn him that there was another plane going the other direction at 35,000 ft — a Lockheed L-1011 Tristar widebody, TWA Flight 37 from Philadelphia to Los Angeles. The two planes had a combined 308 passengers and crew. When the controller realized the mistake, he warned Eby. Almost immediately Eby saw the TWA jet: "There he is!" he called out, putting his plane into a 6-second emergency dive. By his quick reaction he avoided what would have been at the time the worst in-flight aviation disaster in U.S. history. Despite missing the other plane, Eby still had to make an emergency landing in Detroit: the sudden dive injured 24 passengers and crew, but he didn't inform the passengers as to the reason for the maneuver; neither did the airline. Most found out from hearing it in the news over the next several days; Time magazine described it as "like riding the tail end of a snapping whip."
One of Eby's passengers, Burt Herman, was flying with his wife, son, and twin daughters. Every Thanksgiving thereafter, Herman would say a special prayer for Eby. He finally tracked the pilot down and then wrote up the details into a book, "Eby": Master of the Moment*, which was published in 2018. "If they can make a movie about Sully," said Herman, referring to pilot Chelsey Sullenberger, who made an emergency landing in the Hudson River, "they need to make a movie about Guy Eby." Eby didn't even get any sort of commendation from American Airlines. "I want to show you the family that you saved," Herman told Eby when he met him 41 years after the incident, holding up a photo not just of his family of 5, but also of his 6 grandchildren who were born later. "Good-looking family," Eby said, choking up. Eby retired from American in 1978, and settled in Ormond Beach, Fla. He died there on July 30, at 102.