(Reading Time:
2
minutes)
Born in Berlin, Germany, Rosenfeld's family fled the Nazis and settled in New York City when he was 10, and young Harry learned to speak English without an accent, and excelled in his new language. After college and a stint in the U.S. Army, he was hired as a newspaper editor in New York. When it went out of business in 1967, he was hired as an editor of the Washington Post. There, he was approached by a guy who wanted to be a reporter, but had no experience. Rosenfeld let the man write some stories, but they were all so bad Rosenfeld told him to go get some experience, and then come back in a year and try again. Rosenfeld had been promoted from the Foreign desk to the Metro section, which had the largest staff but it was what he called "a pot of stewing cliques and rivalries." His task: "to energize the local staff and accustom it to meeting higher standards." When the publisher later asked Rosenfeld how that was going, he replied, "I had a good day today: nobody cried."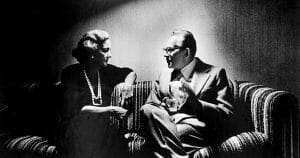 Rosenfeld spent most of his career at the Post's Metro desk, assigning local news coverage. That inexperienced reporter did come back in 1971, and worked local news under Rosenfeld, who Post publisher Katharine Graham described as "an old-style, tough, picturesque editor." Months later, that reporter came to Rosenfeld with a story — a very, very big story, and Rosenfeld let that reporter, Bob Woodward, and fellow Metro reporter Carl Bernstein, run with it. The scandal they covered was dubbed Watergate. As the scandal grew, National desk reporters complained that it was a national story, and they should get to work it, but Rosenfeld fought to let Woodward and Bernstein, who had a highly placed, secret source who was promised anonymity, continue to take the lead. (The newspaper kept that promise until "Deep Throat" revealed himself in 2005: W. Mark Felt, then the deputy director of the FBI — Honorary Unsubscribe Volume 4.) The Post's two years of relentless and well-documented coverage won the newspaper the Pulitzer Prize's Gold Medal for Public Service.
Rosenfeld later insisted on publishing a story about an affair between former president John F. Kennedy and Mary Pinchot Meyer, who was later murdered — and happened to be Post Executive Editor Ben Bradlee's sister-in-law. Rosenfeld found out he had been demoted …by reading about it in the rival Washington Star. "When [Bradlee] was a young kid he learned to play [tennis]," Rosenfeld wrote in his 2013 memoir*. "When I was a young kid, I dodged Nazis." He left the paper to return to New York, as editor of the Albany Times Union. "As a pioneer in investigative journalism," said Times Union publisher George R. Hearst III, "Harry set the bar high for countless others in his profession to do better and go farther in pursuit of the truth." Rosenfeld retired in 1997, but continued to consult with that paper's editorial board for the rest of his life. He died at his home on July 16, having never fully recovered from Covid-19, which hospitalized him last December. He was 91.