(Reading Time:
4
minutes)
Growing up in Brooklyn, N.Y., at 18 months old Heumann contracted polio. After three months in an iron lung, she graduated to a wheelchair. The family doctor suggested she be "institutionalized" since it was clear she would never walk. "Institutionalization was the status quo in 1949," Heumann said later. "Kids with disabilities were considered a hardship, economically and socially." When others fretted about the "tragedy" behind her condition, Heumann (pronounced Human) countered, "Disability only becomes a tragedy for me when society fails to provide the things we need to lead our lives — job opportunities or barrier-free buildings, for example. It is not a tragedy to me that I'm living in a wheelchair." During her life, discrimination against the disabled wasn't called that; it was just the way it was …and she decided to work to change the status quo she grew up with.
That started with her parents, who had to fight to get her admitted to public school. The local elementary school refused to admit her, calling her a "fire hazard" because she couldn't walk out of a building if it caught fire. The school instead offered home teaching — with a tutor who would come to her home for just two and a half hours a week. After three years of that, her mother, Ilsa, fought the school again, and the district allowed her to go to be taught with other disabled students at school — in the basement, not allowed to mix with "normal" students except during assemblies. Also, the school warned, home-teaching would again be required for high school. That gave Ilsa plenty of time to work to force the district to provide in-person schooling at that level. Other parents of disabled students joined the fight, and in 1961, Judy was able to attend a real high school.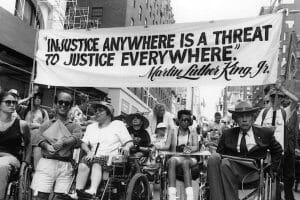 As an adult, Heumann carried on the fight her mother started. She pressed Long Island University to do more for disabled students while she attended there. Non-disabled students joined her, and the university bowed to the pressure, allowing disabled students to (gasp!) live in the dorms, and installed wheelchair ramps at buildings so they could get to class. Once out of school, in 1970 the New York Board of Education denied her a teaching license. Heumann sued the Board "on behalf of herself and others similarly situated." A local newspaper covered the story under the headline, "You Can Be President, Not Teacher, with Polio". The New York Times editorialized that "the blind student who takes mental notes and the paraplegic who wheels himself through school show a determination that exceeds the courage of more acclaimed hero-athletes in our society." The Board backed down, and Heumann became the first teacher in a wheelchair in the New York public school system.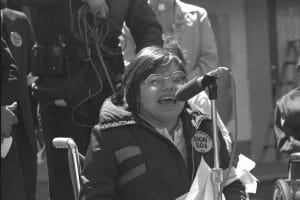 With the resulting publicity over her lawsuit and victory, Heumann got letters from disabled people all over the country describing the discrimination they faced. She and several friends founded the organization Disabled in Action to fight discrimination using civil rights laws — and to conduct a sit-in to protest President Richard Nixon's veto of the Rehabilitation Act of 1973. Nixon signed the Act when it came back before him, but Heumann led another sit-in to force the government to actually implement Section 504 of the act, which formally extended civil rights to people with disabilities. Activists in multiple cities participated while Heumann led the fight in San Francisco. "It was a very important provision because it would mean, for example, that you could not discriminate against someone with a disability in preschool, in elementary school, in high school, at universities, in hospitals, in government," Heumann said in 2020. "And if in fact discrimination occurred, you would have a remedy. You could go to court. You could file a complaint." Again, the government backed down and implemented the law.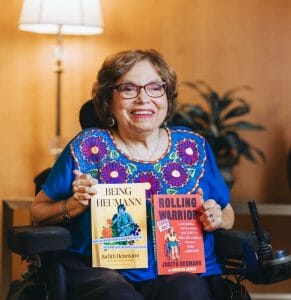 Heumann long pushed for "independent living" for disabled people, which led to her being offered the position of Deputy Director of the Center for Independent Living in California, where she worked on pushing through national legislation for programs in special education, disability research, vocational rehabilitation, and independent living, and helped draft legislation that became the Education for All Handicapped Children Act, passed in 1975, which required that students with a disability are provided with a Free Appropriate Public Education that is tailored to their individual needs. In 1990 the Act was reauthorized and renamed the Individuals with Disabilities Education Act, which is still the law today. Along the way, in 1975 Heumann earned her Master's degree in public health from the University of California at Berkeley.
During her career she was awarded multiple honorary doctorates, and wrote two memoirs. "Some people say that what I did changed the world," Heumann said. "But really, I simply refused to accept what I was told about who I could be. And I was willing to make a fuss about it." — on behalf of herself and others similarly situated. Judith Ellen Heumann, "the mother of disability rights — and she's a 'badass'," says the Washington Post, died in Washington D.C. on March 4. She was 75.