(Reading Time:
2
minutes)
A singer, Cruise was in the right place at the right time more than once. "I was in this country-and-western musical in the East Village," she recalled in 1990. "I was a chorus girl with a big skirt and a big wig, singing way too loud. Angelo was doing the music for the show, and we became friends." That would be composer Angelo Badalamenti; they became friends. Badalamenti, in turn, was hired by up-and-coming film director David Lynch, who was working on Blue Velvet (1986). His assignment was to be a vocal coach for lead Isabella Rossellini, but Lynch liked his style and had him write the score for the film as well. Lynch wanted to use a particular song for the film, and wrote lyrics for it. "Angelo asked me to find someone to sing a song for the soundtrack called 'Mysteries of Love,' but he didn't like any of the singers I recommended," she said. "He wanted dreamy and romantic. I said, 'Let me do it.'" What, a "too loud" what she called "belter" doing a soft, romantic song? She did it by melding in her college education in the French horn: its subdued tone was perfect, and she mixed that sense into her voice so well that it was hauntingly beautiful. When Lynch was ready for his TV debut with the limited series Twin Peaks, he used Cruise for the theme ("Falling", see video below), as well as several songs along the way. The songs, as well as the TV show, were smash hits, thanks to what one critic called Cruise's "angel-on-Quaaludes vocals." She also played an on-screen bit part (a lounge singer) in the series, and in Twin Peaks follow-ons.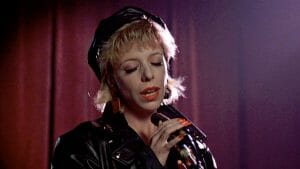 The next big right place, right time event: deliberately offensive comedian Andrew Dice Clay was scheduled as the guest host for a May 1990 episode of Saturday Night Live, and at least one cast member, and the scheduled musical guest (Sinead O'Connor), walked out in protest. At the time, Cruise was working as a waitress, and gleefully accepted the gig, even though she had to skip her table-waiting shift. She didn't call in sick, said her husband, Edward Grinnan. "She called in famous." That helped lead to another gig: Cruise later took over for B-52s singer Cindy Wilson when Wilson took a break from touring. "It was probably the happiest performing of her life," he said. She also acted in plays, most interestingly portraying Andy Warhol, and collaborated with other musicians, from Bobby McFerrin to the British electronic group Hybrid.
"Dad would put [Cruise's album] 'Floating Into the Night' on almost every night as 'dinner music'," said David Bowie's son, Duncan Jones. "A staple." [See on Amazon *] Along the way Cruise released several albums and singles. In 2018 she announced she was suffering from lupus, and it was apparently a particularly painful variety. She chose the date of her death, and despite her home state of Massachusetts not having a "death with dignity" law, ended her life on June 9. She "left this realm on her own terms," said her husband. "No regrets." As she died he played the B-52s song, "Roam" (1989). She was 65.
Julee Cruise performing "Falling" on Dabrowski (Swedish TV), December 1990: