(Reading Time:
3
minutes)
Born and raised on the San Francisco peninsula, Mendelson served in the U.S. Air Force and worked as a vegetable grower before getting a job at a San Francisco TV station in 1961. His job: produce public service announcements. But he quit two years later because he had an idea to make a made-for-TV documentary about baseball player Willie Mays. It was successful and won a Peabody Award. After that was done with, Mendelson noticed a Peanuts cartoon strip featuring Charlie Brown playing baseball. Figuring that a documentary on the worst baseball player of all time would follow nicely his first on the best, he contacted Peanuts creator Charles Schulz, who had liked the Mays documentary, and agreed to participate. Once complete, no TV networks were interested in showing the result, Charlie Brown & Charles Schulz. But that was OK: an advertising agency called saying they wanted Mendelson to produce a half-hour Peanuts TV special, and the best part was a major company wanted to sponsor it. "The bad news is," John Allen told him, was "today is Wednesday and they'll need an outline in Atlanta by Monday."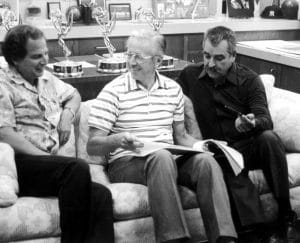 Mendelson quickly got to work with Schulz on the new project, with Schulz suggesting Bill Melendéz as director; he already knew Vince Guaraldi, who did the music for the Mays film. Mendelson says Schulz's "ideas flowed nonstop" and they finished the outline in one day: "winter scenes, a school play, a scene to be read from the Bible, and a sound track combining jazz and traditional music." That was enough for a go-ahead from Coca-Cola for the special, to be titled A Charlie Brown Christmas. But Schulz had a couple of requirements: the Bible scene was a must, and a "laugh track" was a must-not: he didn't like the idea of people being told when to laugh. The next problem: they only had six months to write the script, hire actual children to voice the characters, hire people to animate it, and hire someone to score the combination "jazz and traditional music" and record it, and produce the show …on a miserly $76,000 budget. They finished it just 10 days before the scheduled air time. All the producers sat down to watch the final cut …and Mendelson thought it was a disaster. "My golly, we've killed it," he said, and everyone else agreed except for one of the animators. It was "the best special I'll ever make," Ed Levitt said. "This show is going to run for a hundred years." The CBS TV network was with Mendelson: they thought it was awful. "I really believed," he said, "if it hadn't been scheduled for the following week, there's no way they were gonna broadcast that show."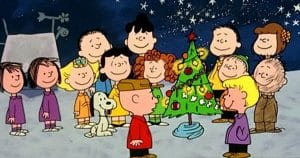 But Levitt was right: the critics were unanimous in their acclaim, Coca-Cola was delighted, and ratings were huge, with 45 percent of all TVs turned on during the broadcast tuned in. The soundtrack album, released the day the show aired, sold briskly — and not only won a place in the Grammy Hall of Fame, but it was added to the Library of Congress's National Recording Registry list of "culturally, historically, or aesthetically important" American sound recordings. Mendelson won the Emmy Award for Outstanding Children's Program of the year, another Peabody Award, and CBS ordered four more "Charlie Brown" specials. Mendelson went on to work on more than 50 Peanuts productions, not even counting the animated Saturday cartoon TV show The Charlie Brown and Snoopy Show in the 1980s, and he was tapped to bring the cartoon cat "Garfield" to life for his TV special and series. Oh, and CBS decided to run his original documentary, Charlie Brown and Charles Schulz, in 1969. In total, Mendelson won 12 Emmys and 4 Peabodys, plus numerous Grammy, Emmy, and Oscar nominations, and A Charlie Brown Christmas will probably run for more than a hundred years. Ironically, Leland Maurice Mendelson died on Christmas day, from lung cancer. He was 86.
Note: A Charlie Brown Christmas is available on Blu-Ray on Amazon, which includes a "Making Of" documentary short produced by Mendelson. Yeah… I ordered one.