(Reading Time:
3
minutes)
A pilot, Olson flew helicopters for the U.S. Army for four years, and then moved to the U.S. Air Force, flying A-10 "Warthog" jets, and continued that work in the Air National Guard. In all he spent 32 years in the military, and held the record for the most hours flown in an A-10 aircraft. In 2017 Olson put his experience to work piloting a SEAT — a Single Engine Air Tanker — fighting wildfires. Early morning on November 16 a wildfire started near Estes Park, Colo., when high winds blew a tree into a power line. Colorado's drought conditions and the steep terrain caused the fire to flare up quickly; it was dubbed the Kruger Rock Fire. Colorado's policy is to aggressively fight wildfires so they don't blow up into huge firestorms. By the time Olson, who was stationed in Fort Morgan, flew in, it was late afternoon. He went straight to the fire and dropped his load of water, and then headed to a nearby airport to get 800 gallons of fire suppressant. By then it was getting dark.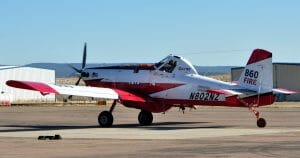 One problem with fighting wildfires is air tankers only fly during daylight hours. With the fire quickly spreading, Olson wanted to be the first fixed-wing air tanker pilot to fly into a fire at night using "NVGs" — night-vision goggles. Thanks to his military service Olson had more than 8,000 hours of flying experience, including over 1,000 hours of flight time with NVGs. "Pretty cool thing to be a part of, I think" — to be the first air tanker pilot to do that, he told KUSA-TV reporter Marc Sallinger, who had gone to the Northern Colorado Regional Airport in Loveland. "This is the culmination of about five years of pretty hard work," he said. "I'm a big proponent of it, and I think we can do it safely and effectively." With that, Olson strapped into his Air Tractor AT-802F SEAT and took off. He successfully made retardant drops, but radioed to ground crews that choppy winds had picked up and that "after one more pass," he needed to return to the airport. Moments later, firefighters on the ground heard the plane crash in the darkness. Olson was killed. The National Transportation Safety Board immediately sent investigators to find out what happened.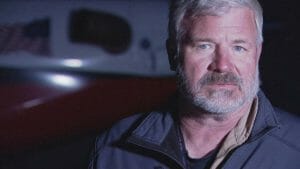 "In no way, shape, form or fashion could you be able to tell that this guy's a lieutenant colonel in the Air Force and he's the A-10 pilot," said Mark Smith, who has been friends with Olson since sixth grade. "He just never wore that on his sleeve." The last time an air tanker crashed fighting a fire in Colorado was in July 2002 — also near Estes Park, at the Big Elk fire; the two pilots were killed. A week later a helicopter fighting the same fire crashed, killing that pilot. Olson knew it was dangerous work. The Kruger Rock fire was declared fully contained after dark on November 20. Marc "Thor" Olson was 59.