(Reading Time:
4
minutes)
A lawyer, Minow was known for just two words delivered in a speech when he was the Chair of the U.S. Federal Communications Commission — but there is a lot more to his story. He grew up in Wisconsin, and served in the U.S. Army during World War II — and went to Northwestern University on the G.I. Bill, earning his Bachelor of Science degree in 1949 and his J.D. in 1950, when he was first in his class at the law school. He clerked for Chief Justice Fred M. Vinson of the U.S. Supreme Court. A job as assistant counsel to Illinois Governor Adlai Stevenson increased his involvement in the political sphere, and in 1961 was appointed as the FCC Chair by President John F. Kennedy.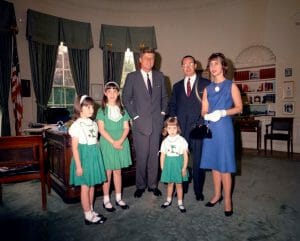 At the time, the FCC was pretty much a simple bureaucratic agency, issuing licenses to radio and TV stations, and for pretty much everything else that involved transmission using radio waves, from police cars to ham radio operators. But TV and radio broadcasters had a special responsibility as set forth in the Radio Act of 1927 (and affirmed in its replacement, the Communications Act of 1934): that broadcast licensees must operate in the "public interest, convenience and necessity." The FCC wasn't doing much about that requirement until Minow took the reins: it was during the era of game show cheating scandals and radio station payola. (Even later, FCC Commissioner Ervin Dugan (1990–1994) pointedly observed that "successive regimes at the FCC have oscillated wildly between enthusiasm for the public interest standard and distaste for it.") Minow not only had enthusiasm, he demanded the networks to do more for the public interest. As the brand new Chair of the FCC, in May 1961 he gave a speech at the convention of the National Association of Broadcasters that included this immortal observation directed at TV broadcast executives:
When television is good, nothing — not the theater, not the magazines or newspapers — nothing is better. But when television is bad, nothing is worse. I invite each of you to sit down in front of your television set when your station goes on the air and stay there for a day without a book, without a magazine, without a newspaper, without a profit and loss sheet or a rating book to distract you. Keep your eyes glued to that set until the station signs off. I can assure you that what you will observe is a vast wasteland.

You will see a procession of game shows, violence, audience participation shows, formula comedies about totally unbelievable families, blood and thunder, mayhem, violence, sadism, murder, Western bad men, Western good men, private eyes, gangsters, more violence and cartoons. And endlessly, commercials — many screaming, cajoling and offending. And most of all, boredom.
After a pause, he hammered it home: "If you think I exaggerate, try it." Most only remember the "vast wasteland" bit, not the rest, but of course many television programmers seethed — Sherwood Schwartz, creator of the show Gilligan's Island (1964–1967) expressed his displeasure by naming the boat of the shipwrecked crew the S.S. Minnow (changing the spelling so it wasn't so overt). Still, "Almost overnight, Minow's address caused every facet of television production to be rethought and reshaped," wrote law Prof. Robert M. Jarvis in a 1998 Law Review essay. Minow's remarks reminded broadcasters that the Radio Act of 1927 made it clear that broadcasters are not "common carriers" which sell airtime to anyone who wants it, but rather are responsible by license requirements to operate in the public interest. And by the way, he noted in his speech, broadcasters have to renew their licenses periodically, and part of the renewal process will be to evaluate their use of the airwaves which, by the way, are owned by the public.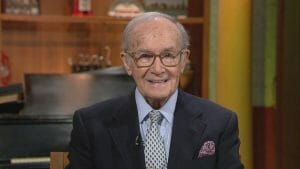 Even though he was only with the FCC for two and a quarter years, Minow's impact was significant. He pushed for legislation that required TV manufacturers to include all channels on sets — VHF and UHF — so large broadcasters, which had snapped up the VHF channels in most markets, weren't given unfair advantage over smaller stations. Minow himself says his greatest contribution was a different bit of legislation he brought to Congress: laws clearing the way for communications satellites. "When I toured the space program with [President] Kennedy, he was surprised to see me," he said later, and used the opportunity to tell Kennedy that "communications satellites will be much more important than sending man into space, because they will send ideas into space. Ideas last longer than men." Minow declared in a 2011 interview that news is "the most important" public service performed by broadcasters, but "too much deals with covering controversy, crimes, fires, and not enough with the country's great issues." Worse, presidential campaigns are "obsessed with the trivial," and he should know: that was despite him pushing for better as the longtime co-chairman of the federal Commission on Presidential Debates.
Minow went on to a successful law career. His daughter, Martha, herself a law professor (pictured in the White House photo above, far left), recommended a young lawyer as a summer associate for his firm, and her father made the hire: Barack Obama. He was assigned a mentor at the firm, Michelle Robinson; they were later married. In 2016, then-President Obama awarded Mr. Minow the Presidential Medal of Freedom, the nation's highest civilian honor. Minow also gave more speeches, including to the Association of American Law Schools in 1985, where he declared, "I have finished a comprehensive study of European comparative law. In Germany, under the law, everything is prohibited, except that which is permitted. In France, under the law, everything is permitted, except that which is prohibited. In the Soviet Union, under the law, everything is prohibited, including that which is permitted. And in Italy, under the law, everything is permitted, especially that which is prohibited." Newton's daughters inherited his sense of humor, once joking that their father's tombstone would declare he had moved "On to a vaster wasteland." Newton Norman Minow died May 6 from a heart attack. He was 97.