(Reading Time:
3
minutes)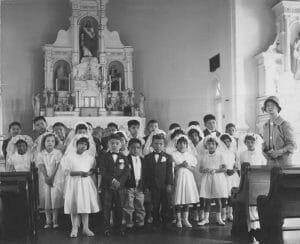 A Sechelt Indian (or shíshálh) of British Columbia, Canada, John was one of the last First Nation indigenous Canadians to be forced to live at St. Augustine's Indian Residential School, part of the Canadian Indian residential school system. Funded by the Canadian government, St. Augustine's was run by the Roman Catholic Church, and was later found to have committed significant abuse of students that led to many deaths. The National Centre for Truth and Reconciliation acknowledged the deaths of five students who attended the school, but "I know that's not even close to the approximate number," said shíshálh First Nation chief Warren Paull. "They just weren't recorded." The school closed in 1975. An investigation of the school site using ground-penetrating radar to perhaps uncover more bodies began earlier this year.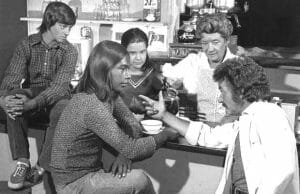 So it is perhaps not surprising that John left the school as soon as he was able, taking work at a nearby sawmill. But shortly after, the Canadian Broadcast Corp. greenlit a new TV series, The Beachcombers, centering on Nick Adonidas (Bruno Gerussi), a Greek log salvager, cruising the beaches for logs with his partner in their boat Persephone. "Jesse Jim" was the partner, played by John. The 30-minute comedy-drama debuted in Fall 1972, and was eventually syndicated to more than 50 countries. "John's character made the series notable for its casting of Indigenous actors in roles that transcended stereotypes and caricatures," said Patrick Mullen of the Toronto Film Critics Association. "In addition to Indigenous representation, The Beachcombers pioneered multicultural onscreen representation (despite casting the Italian-Canadian Gerussi as a Greek)."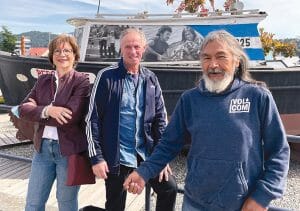 While the series was generally panned by critics, the Canadian public loved the show: at 387 episodes over 19 seasons, its ratings topped 1 million viewers at its peak. John stayed to the end of the series in 1990, and returned for The New Beachcombers to reprise the role for a TV movie in 2002. That was made as a pilot to test the waters for a revamped series, The New Beachcombers. John apparently didn't participate in the resulting series, which was similarly panned by critics; it only lasted for 19 episodes. John, meanwhile, made his living as a fisherman. "I don't think Pat realized what his impact was on a generation of kids," said Jackson Davies, who played Constable John Constable, starting in Season 4. "I'm not just speaking about Indigenous kids. There are kids all around the world who admired him. He probably didn't realize how important he was. For a lot of non-Indigenous people, it was the first time they saw someone Indigenous living in the community." Pat "PJ" John died in Sechelt, B.C., on July 13. He was 69.