(Reading Time:
2
minutes)
Born and raised in Washington state to a nuclear physicist father and a physical therapist mother, Fullmer was expected to go to college. He entered Washington State University to study architecture, and as part of his general education he took a film class, where he "became hopelessly hooked" on animation. He dropped out of WSU and headed to the California Institute of the Arts to study animation.
Once graduated, Fullmer started his own animation company to make commercials, educational films, and segments for Sesame Street. After about 7 years, he was hired full time at the Don Bluth Studios, which had been hired to create special effects for the first Laserdisc video games, Dragon's Lair and Space Age. He made a couple of other jumps, including working with Academy Award-winning special effects artist John Dykstra, then to Filmation to work on TV and film animation projects such as Happily Ever After, She-Ra: Princess of Power, and Ghostbusters.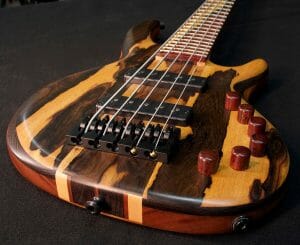 And then he hit the big time: Disney came calling. They wanted him to create the "Toontown" sequences in Who Framed Roger Rabbit? — and stayed at Disney for 18 years, working on The Little Mermaid, Rescuers Down Under, Beauty and the Beast, The Lion King, Toy Story, The Emperor's New Groove, Disney's first 3D animated film, Chicken Little, and more. So what does one do when at the top of a career at the top animation studio? He quit to do something else! He had made his own guitars since he was 12 years old, making about 30 by the time he was 18, and it was still in his blood. After rising to being a film producer, he found "I wanted to get back into being an artist again."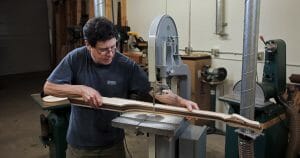 In 2006 he started a new company to make basses, Wyn Guitars. Why basses? "Besides the deep expressive tones," he said, "bass guitars are just plain bigger and offer a larger canvas for design, shape and beauty." Bassists such as Jimmy Haslip, Abraham Laboriel, James LoMenzo of Megadeth, and Ethan Farmer used Wyn guitars, which were as gorgeous to look at as they were to listen to. After working on huge film projects with hundreds of others, he was gleeful to do everything at his company by himself, by hand — just as he had started in hand-drawn animation. In 2014 documentary producer Mike Enns made an hour-long film about this expert animator who chucked it all to make bass guitars: Restrung can be viewed in its entirety below. Randall Wyn Fullmer died July 10 at 73. The cause was not announced.