(Reading Time:
2
minutes)
An actor, Mosley broke into public view playing the lead in 1976's Leadbelly, a biopic about musician Huddie "Lead Belly" Ledbetter, which critic Roger Ebert called "one of the best biographies of a musician I've ever seen." In The Greatest (1977), he played boxer Sonny Liston as he was soundly beaten by Muhammad Ali, and opposite Burt Reynolds in the film Semi-Tough (1977). But Mosley was best known for a T.V. role: helicopter pilot "T.C." in 158 of the 162 episodes of Magnum, P.I. (1980–1988), but that didn't come to fruition until after the producers bowed to several demands that Mosley made.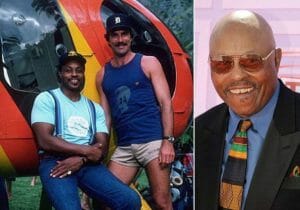 After being suggested for the role by series star Tom Selleck, who had worked with him on a film in 1973 (Terminal Island), Mosley was originally cast as the operator of a financially struggling helicopter tour firm, but he was adamant that he would not play "the only Black person in Hawaii and be broke," he said later. "And they reversed. They decided Tom would be broke, and I would be financially well off — except I was always bailing him out." Also, "They keep writing [in scripts] for me to smoke and drink, but I won't do it," he said in a 1982 magazine interview. "I never get high, smoke or drink on the show or in real life. That's not what I want Black kids to see." There was one thing that the producers wouldn't give in on: Mosley really was a helicopter pilot, but they wouldn't let him do the chopper flying for the show. Mosley was so physically fit (a burly 6-foot-2 and 215 pounds), the stunt pilot had to wear a muscle suit to approximate Mosley's physique. He went on to play many more roles, ending with a couple of appearances on the 2018–2022 remake of Magnum, but not as a chopper pilot.
On August 4, Mosley was in a car crash in southern California, which left him paralyzed from the shoulders down. He never made it out of the Cedars-Sinai Medical Center: he died from his injuries in the early morning hours of August 7. "We could never mourn such an amazing man," Mosley's daughter Ch-a posted on Facebook. "He would hate any crying done in his name. It is time to celebrate the legacy he left for us all." Roger Earl Mosley was 83.