(Reading Time:
2
minutes)
Born in Canada, in 1963 Trombley and her husband moved to Windsor, Ont., where she got a job as a receptionist at CKLW-AM radio, which was just beginning its "glory years" after dumping its variety programming and focusing on contemporary hits. The station had a huge audience south of the border, especially in Cleveland, Ohio, and Detroit, Mich. As Trombley learned the business, she was promoted to run the station's music library and, in late 1968, to CKLW's music director, responsible for choosing what songs to play on the increasingly popular station. "I'm a lyric freak," she said later. "When someone is saying something in a song, I can't be the only person interested in it." As a single mother (she separated from her husband in 1968; they later divorced), record promoters would "subtly" let her know they would pay for airtime — "payola." She refused to play. "She made it less subtly known," said her son, Tim, "that if they wanted to continue to meet with her every week, that was not something that was going to get their record on the radio."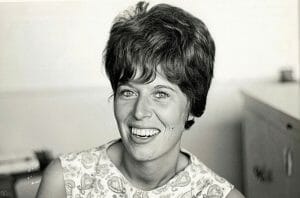 Known as "The girl with golden ears," Trombley had a knack for knowing which new songs would be popular among listeners — and pushed those songs into the play rotation, which helped them become popular among listeners. That, in turn, brought big names in music to Windsor to visit the station, which also provided a boost for the station, as it was able to attract big names in music: Elton John, Kiss, Ted Nugent, Bob Seger, Earth, Wind and Fire, and others. Sometimes they brought their new records so CKLW could be the first to air them, such as The Guess Who's "These Eyes" and Main Ingredient's "Everybody Plays the Fool". She talked Elton John into releasing "Benny and the Jets" as a single because she knew it would be a good crossover hit. It was. Bob Seger even wrote a song about her, "Rosalie" (1973: see video below), which she wouldn't let her DJs play because she thought that would show a conflict of interest. And she did it all in a very sexist era: she was a rare female music director in the industry. (The "Rosalie Trombley Award" was created to honor women who have made their mark in broadcasting.)
In 1971 the Detroit Free Press called Trombley "The most powerful woman in popdom," but the station's "glory years" came to an end in the mid- to late-70s after the Canadian Radio-television and Telecommunications Commission mandated that the country's broadcasters must include at least 30 percent Canadian content in its programming. American audiences largely tuned out: there was only so much good Canuck content to go around, even with Anne Murray, Gordon Lightfoot, Joni Mitchell, the Guess Who, and Bachman Turner Overdrive. Music listeners preferred the better audio quality of FM radio anyway. CKLW laid her off in 1984, and she went on to serve similar roles at WLTI-FM in Detroit, and CKEY in Toronto. Trombley died November 23 at a long-term care facility in Ontario, from Alzheimer's disease. She was 82.