(Reading Time:
2
minutes)
When growing up in Ontario, Canada, Dickinson saw a meteor streak across the sky and was transfixed. He was 5 years old, but it set his career choice: something, anything, to do with astronomy. That decision was reinforced when he got his first telescope, a modest 60 mm, at 14. In 1968 he was hired as a staff astronomer and teacher at Toronto's McLaughlin Planetarium of the Royal Ontario Museum, but that didn't last long: two years later he was snapped up by the Strasenburgh Planetarium in Rochester, New York.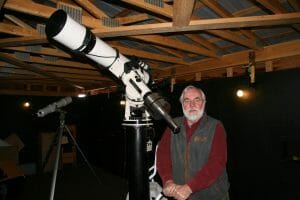 Dickinson started writing about astronomy, and taking photos of what he saw. When Astronomy magazine started up in 1973, it recruited him as a writer. By 1974, it hired him as its executive editor. But Dickinson preferred going outside to look at the sky, not sit in an office, and left in 1975. But he kept writing, most notably NightWatch: A Practical Guide to Viewing The Universe *, which has been in print (with updated editions) for 40 years. He wrote dozens of other books on astronomy for adults and children, and appeared on TV as an astronomy commentator for Discovery Channel Canada. Along the way he continued teaching, including at St. Lawrence College. In 1994, the International Astronomical Union committee on Minor Planet Nomenclature named asteroid 5272 Dickinson to honor his "ability to explain the universe in everyday language."
Other accolades include the Order of Canada, his nation's highest civilian achievement award. "He lived and breathed his passion," wrote his wife, Susan. "So captivated was he by the cosmos that he made it his mission to endeavour, through his writings, his astrophotography and his lectures, to impart some of his awe and appreciation of the universe to others. Although he was physically tethered to this planet, his mind soared among the stars, and the time he spent gazing skyward from a dark country site brought him peace and serenity. Now he's at one with the universe that enchanted him for a lifetime." A "shooting star" caught his eye and made him look up, and he kept looking for the rest of his life. Dickinson died February 1 from Parkinson's disease. He was 79.