(Reading Time:
2
minutes)
Born in Kansas City, Mo., to a clarinetist father and a singer mother, DeRosa went into the family business playing a French horn, usually as a studio musician, available for hire for anyone who needed a horn for a recording. Classical? Jazz? Movie/TV soundtracks? He did it all, playing for Henry Mancini, Lalo Schifrin, John Williams, Ella Fitzgerald, Harry Nilsson, The Monkees(?!), Sammy Davis Jr., Frank Zappa and Frank Sinatra. "I learned the Mozart and Strauss, but the studio business required something different," DeRosa said. "The music was always new, never seen before; you played it and they recorded it. You never knew what you were going to get. Fortunately, I didn't have problems with that, so I became a well-known player in commercial work."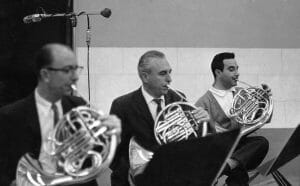 "Vince Derosa's contribution to American music can't be overstated," John Williams said. "He was the premier first horn player on virtually every recording to come out of Hollywood for over forty years. He represented the pinnacle of instrumental performance and I can honestly say that what I know about writing for the French horn, I learned from him. DeRosa was an inspiration for at least two generations of composers working in Hollywood and beyond. He is respected world-wide and universally regarded as one of the greatest instrumentalists of his generation." DeRosa played on Barry Manilow's album Even Now, Neil Diamond's September Morn, Louis Armstrong's I've Got the World on a String, Frank Boz Scaggs' Silk Degrees, Tower of Power's Back to Oakland.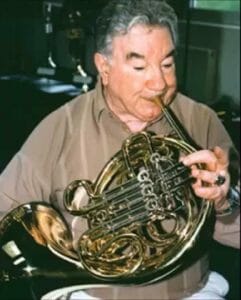 Classical? "This is the most astonishing example of virtuosity on the horn I have ever heard on records," gushed music critic Alfred Frankenstein about the 1963 Grammy-nominated album, The Intimate Bach. "To play as lightly and speedily as a harpsichord, right out in the open with a minimum of support, is to give an incredible performance." Film soundtracks? DeRosa figured he played on "thousands" of films, but the best known include Carousel, Close Encounters of the Third Kind, Edward Scissorhands, How the West Was Won, Jaws, Mary Poppins, Midway, Oklahoma, My Fair Lady, Rocky, The Days of Wine and Roses, The Magnificent Seven, The Music Man, The Sound of Music, and E.T.: The Extraterrestrial. TV? You bet: a sampling includes Batman, Bonanza, Dallas, Hawaii Five-O, Peter Gunn, Star Trek, The Rockford Files, and The Simpsons.
In the jazz realm, DeRosa played first horn for most of Sinatra's greatest hit albums, including In the Wee Small Hours, Songs for Swingin' Lovers!, Frank Sinatra Sings for Only the Lonely, and Strangers in the Night. And on the side, DeRosa sat in with the Los Angeles Philharmonic. He passed along his talent, too, serving on the faculty of the University of Southern California from 1974 to 2005. DeRosa retired in 2008 after 70 years of near-constant work, and died on July 18 at 101.