140 Amazing People
Also in Paperback!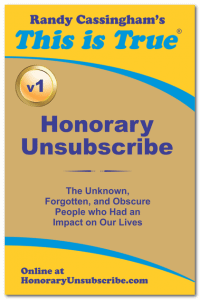 Start with the inventors: the same guy invented the computer hard drive and the video cassette, another guy vinyl — and bubble gum. And how about the brains behind the contact lens, the hovercraft, the Hawaiian shirt, even the guy who thought of putting a peanut inside an M&M?
And then there's the artists — the creators of music and TV shows you love. Doctors who made radical breakthroughs to improve human life. Even a rocket scientist here and there, who helped humanity reach toward the stars. And, yes, an entertainer or two — the ones who spent their entire lives bringing us joy, only to die mostly forgotten.
The mainstream media tend to worship celebrities and sports figures, but the real heroes in life are often anonymous to the public. You've likely never heard of the doctor known as "the fastest man on Earth" — but you've probably seen his photo, working as his own test dummy, risking his life to learn how to make cars (and spacecraft) safer.
All those stories are in this book, plus more than a hundred more (140 total). The stories are fascinating: you won't believe the cool people you have missed in your life. These are the people you wish you had known.

The Honorees
Included in this book:
Booked actor Jack Lord
Music teacher Shinichi Suzuki
Writer Irene Kampen
War correspondent Martha Gellhorn
Chiclet inventor Louis Mahle
Cartoon artist Antonio Prohias
Comfortable chair designer Edwin John Shoemaker
Bullet train developer Hideo Shima
Racquetball inventor Joseph Sobek
Race enthusiast Mary Fendrich Hulman
Equal opportunity preacher Rev. Louis A. Saunders
Classic TV creator Leslie Stevens
Sensual author Dominique Aury
Internal viewer Allan MacLeod Cormack
Test pilot George Grundy Jr
Anti-spam activist Jim Nitchals
Sportsman Fernand Sastre
Photojournalist Maurice Sorrell
Hearing aid designer Aram Glorig
"Dick and Jane" author A. Sterl Artley
Rocket scientists Max Nowak, Heinrich Paetz and Albert Schuler
Lassie's dad Hugh Reilly
Surgeon general LeRoy Edgar Burney
Garage inventor Massena Gump
Visionary Otto Wichterle
Lyricist Marshall Barer
Disease specialists Drs. Jonathan Mann and Mary Lou Clements-Mann
"Sasha" the bartender Leonid Kinskey
Tech designer Reynold B. Johnson
Food preparer Marc Harrison
Spokeswoman Toni House
Real heel Roger Vivier
Curmudgeonly author Cleveland Amory
"Miss Marple" actor Joan Hickson
Automotive designer Wilhelm Karmann
"Batman" creator Bob Kane
Tornado meteorologist Tetsuya Fujita
Radio developer Elmer H. Wavering
Autograph hound Mary A. Benjamin
One-legged tap dancer Clayton "Peg Leg" Bates
Master poet Ramchandra Narayanji Dwivedi
"Betty Crocker" actress Adelaide Hawley Cumming
Public health educator Dorothy Bird Nyswander
Defibrillator inventor Paul M. Zoll
French illustrator Raymond Peynet
TV comedy writer Lucille Kallen
Hawaii Five-O actor Herman Wedemeyer
"Spanish Flea" composer Julius Wechter
Composer and actor Bobby Troup
Science novelist Thomas McMahon
Nuclear scientist Glenn T. Seaborg
"Smokey Bear" creator Harry Rossoll
Violin virtuoso Yehudi Menuhin
Color TV broadcast pioneer Walter D. Scott
Civil rights enforcer Henry V. Graham
Comic Gary Morton
Photographer Sam Shaw
"Wilma Flinstone" voice Jean Vander Pyl
Ventriloquist Wenceslao Moreno
Laser inventor Arthur Schawlow
LA Police spokesman Daniel N. Cooke
Comic artist Saul Steinberg
Vinyl inventor Waldo Semon
Hovercraft inventor Christopher Cockerell
Bookstore magnate Christina Foyle
Iditarod founder Joe Redington
Last AP telegrapher Aubrey Keel
Apollo moonwalker Charles Conrad Jr
Smoking gun cancer researcher Ernst Wynder
World record flyboy Ed Long
Zulu music legend Simon Nkabinde
First on-air TV weatherman Clint Youle
Aeronautics researcher Robert Thomas Jones
Memorial sculptor Frederick Hart
Peanut M&M inventor Raymond Vernon
Diplomat and inspiration Joan R. Braden
Unmanned spaceprobe pioneer W. Eugene Giberson
"Honeymooners" co-creator Harry Crane
Forensic pathologist William Eckert
Chicken pioneer Thomas O. Foster
Mountaineer Paul Petzoldt
ZIP Code inventor Frederick C. Belen
Publicist Jim Moran
Space engineer Jerry Olivieri
Psychiatrist Nise da Silveira
Gymnast Leon Stukelj
Rocket sled speeder John Paul Stapp
Game show host Gene Rayburn
"The Shadow" voice John Archer
Blues DJ Early Wright
Celestial mathematician Juergen Moser
London Fog raincoat designer Israel Myers
Museum director Jeshajahu Weinberg
Writer Nigel Tranter
Disney animator Marc Davis
Singer and composer Jester Hairston
"Addams Family" creator David Levy
Magical showman Doug Henning
Inventor Karsten Solheim
"Lone Ranger" announcer Bob Hite Sr
Cartoonist Kariel Gardos
Obstinate journalist V.K. Narasimhan
Sidekick extraordinaire Durward Kirby
Joyful sex author Alex Comfort
Pioneering journalist June Anderson Almquist
ASL linguist William Stokoe Jr
Aeronautical engineer Richard S. Shevell
"Mark Trail" model Charles N. Elliott
Credit card developer William J. Boyle
Hollywood stylist Michel Kazan
Pioneering cosmonaut Yevgeny Khrunov
Mambo king Tito Puente
Hawaiian shirt designer Ellery J. Chun
Etch-a-Sketch marketer William Casley Killgallon
Open tennis promoter Philippe Chatrier
"Hawkeye Pierce" model Keith Reemtsma
Soviet critic Gustaw Herling-Grudzinski
Holocaust documentarian Laurel Vlock
Core curriculum developer Everett Needham Case
Amateur linguist John Wilder Tukey
Physicist Abraham Pais
Italian freedom fighter Edgardo Sogno
NASA research engineer Robert R. Gilruth
Lava Lamp inventor Edward Craven Walker
Blood bag inventor David Bellamy
Dodger scout Clyde Sukeforth
Health skeptic John H. Renner
Alert security guard Frank Wills
Cancer researcher Michael Smith
Laser visionary Joseph Weber
Far-sighted shopkeeper Nauzer Nowrojee
Talk show creator Steve Allen
IC pioneer Victor Grinich
Newsman Robert Trout
Network architect Michael Muuss
Writing teacher Malcolm Bradbury
Fireworks artisan Christopher Ross
Comic actor Werner Klemperer
Cue card inventor Barney McNulty
Walkie-Talkie and pager inventor Al Gross