150 Amazing People
Also in Paperback!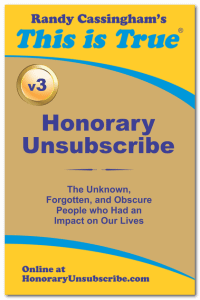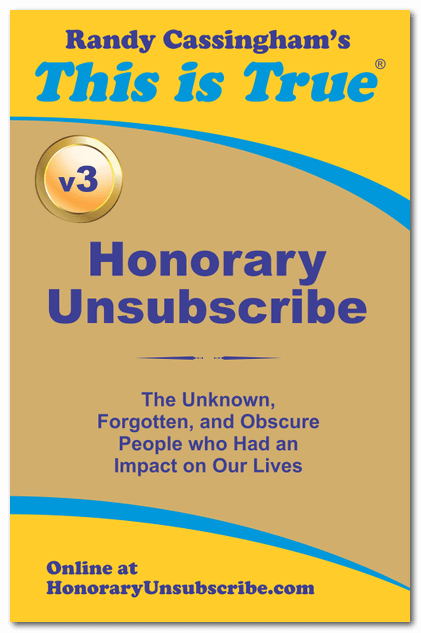 This third volume of astonishing people has more amazing inventors: the doctor who invented the implantable drug infusion pump, which is now used by diabetics to keep blood insulin levels in check. The doctor who came up with acetaminophen, to treat your headaches and other pains. The physicist and engineer who invented the crash-test dummy (and why). The guy who came up with the idea for renting videos. The microbiologist who is responsible for saving more lives than anyone else in history.
There's also the woman who founded the first rape crisis center in the U.S. (because her 15-year-old daughter really needed it). The guy who came up with the first web crawler to create a search engine (it wasn't Google).
And then there's the artists — the guy responsible for bringing Batman to modern audiences, after the character declined after World War II. The woman who created "Brenda Starr". The man who quit his corporate job and came up with a new concept to help the poor: the food bank.
You've heard of the Green Berets — the very first Special Forces team. Have you ever heard of the secret agent who was responsible for creating them, and chose the color of the beret? You will here. And the guy who was the first Blue Angel — the U.S. Air Force's precision flying team.
Not to mention the doctors who improve or save lives, like the one in New Zealand who recognized, and developed a treatment for, Chronic Fatigue Syndrome. Plus, of course, a number of rocket scientists and other geeks.
The mainstream media tend to worship celebrities and sports figures, but the real heroes in life are often anonymous to the public. This volume includes 149 of those fascinating men and women.

The Honorees
Included in Volume 3:
Digital sound pioneer Thomas G. Stockham Jr.
Writer Jack Cady
Obstetric anesthesiology pioneer Gertie Marx
Movie trailer reinventor Andrew J. Kuehn
Scifi agent and editor Julius Schwartz
Female prisoner advocate Sybil Brand
Over-the-moon composer Bart Howard
Bang-up producer Dana Broccoli
Computer missionary George E. Pake
Rocket scientist William H. Pickering
Yet Another Unknown U.S. Marine
Special Operations operative Aaron Bank
Soviet dissident Larisa Bogoraz
Manufacturer turned health lobbyist Phil Sokolof
Army wife Julia Compton Moore
Deaf educator Edward Scouten
Surgeon Richard Lynn Varco
Medical experimentation victim David Reimer
Highway engineer Marilyn Jorgenson Reece
Book publisher Roger W. Straus Jr
Eye surgery pioneer Charles Kelman
Doctor Jordan B. Fieldman
Federal judge Prentice Marshall
Infant anatomist Edmund Crelin Jr.
Pulp author Hugh B. Cave
Valiant illustrator John Cullen Murphy
The imaginative Sam McKim
The "R" of "H&R" Richard A. Bloch
Pop food scientist William A. Mitchell
Carried-away actress Fay Wray
War photographer Carl Mydans
Taboo researcher Elisabeth Kübler-Ross
Bright as a comet Fred L. Whipple
Jack-O-Farmer Nick Venetucci
Beachcomber Al Baldwin
Accidental spy Iceal Hambleton
Foghorn-voiced Scott Muni
Magnificent 1/7th Leroy Gordon Cooper Jr.
Photographic art pioneer Helen Gee
First Amendment defender Richard M. Schmidt Jr.
The jazzy Joe Bushkin
Best buddies Jeremiah Baro and Jared Hubbard
Media critic Reed Irvine
The rational Ancel Keys
Universalist Albert A. Dorskind
JPLers Jane Galloway, Kerri Agey and Dorothy Forks
Loyal American Harry Ueno
The supportive Harold Benjamin
Headache-free Julius Axelrod
The demanding Gerard Debreu
Victim advocate Oleta Kirk Abrams
The scientific Dennis Flanagan
The captivating Nick McDonald
Television legend Johnny Carson
The low-pressure Edward D. Freis
The well-grounded Karl Linn
Non-dummy Samuel W. Alderson
High-flier Uli Derickson
The safely clad George F. Crikelair
The pre-recorded George Atkinson
Superdad Richard Dutrow
The very patient Simon Eisdorfer
The cold-hearted Wilfred G. Bigelow
Real-life Starr Dale Messick
The well-vaccinated Maurice R. Hilleman
Civic-minded Marla Ruzicka
Educational TV pioneer John F. White
The well-decorated David H. Hackworth
The magical Jay Marshall
Actor-impressionist Frank Gorshin
The alarming E. Harris Nober
Heroic actor Leon Askin
The record-breaking Simon Waronker
Happily married Percy Arrowsmith
The non-ignorant Shana Alexander
Gutsy pilot Ray Holmes
Classic-maker Ernest Lehman
Wartime gypsy Frances Langford
Easy dinner creator Gerry Thomas
The very healthy Richard Doll
Good politician Jay Hammond
First Blue Angel Roy Voris
Typecast film maker David Loeb Weiss
Down and dirty Ronald F. Scott
Presidential doctor Daniel Ruge
Woman Kathy Wilson
Dancer Murphy Matthews Jr
Laser inventor Gordon Gould
Extremely equal Constance Baker Motley
The hospitable John van Hengel
TV writer Devery Freeman
The very open Alexander Yakovlev
Extraordinary doctor Bill Inman
Artist R.C. Gorman
Management guru Peter F. Drucker
Consequential truthteller Ralph Edwards
Sensei Noriyuki Morita
The bosomy buddy Wendie Jo Sperber
Classic clothier Peter Haas Sr.
Friend of the Earth Richard Sandbrook
High achiever Paul Williams
Healer Bradford Cannon
Networker Evelyn Fowler Grubb
Vietnam hero Hugh Thompson Jr
The jazzy Bob Weinstock
The Good-hearted W. Hunter Simpson
"Grandpa" Al Lewis
The Boopalicious Myron Waldman
Southern chef Edna Lewis
Head Cowsill Billy Cowsill
The tireless Peter Snow
Chicken evangelist Robert C. Baker
The findable Paul Flaherty
The sudsy Gloria Monty
Gem in the Rough Frederick H. Pough
Japan expert Otis Cary
E-patient Tom Ferguson
The non-bionic Bruce A. Peterson
Barehanded Harold Raymond Kingsmill Bates
The well pinned-up Joyce Brand
Non-smoker Heather Crowe
Southern desegrationist Hugh B Patterson Jr
Swinger Eddie Malone
Olympic trailblazer Neroli Fairhall
Staying in Vegas Manuel J. Cortez
The Ever-hungry Robert Carrier
Productive adult Lou Dantzler
Patients rights pioneer Zelda Foster
Arizona photographer Ray Manley
Master Navy diver Carl M. Brashear
The bookish Frederick G. Kilgour
Well-belted James Van Allen
Maori queen Te Arikinui Dame Te Atairangikaahu
Research biologist Vernon M. Ingram
Rocketman Rocco Petrone
Women's rights crusader Estelle R. Ramey
Indoor environmentalist P. Ole Fanger
School hostage Emily Keyes
Public servant Joseph Kauffman
Comedy writer Jerry Belson
News explainer Christopher Glenn
Disguised friend Arthur Peacocke
Big-picture thinker Jean-Jacques Servan-Schreiber
Grand Master Jack Williamson
Buchenwald savior Jack Werber
Anti-smoker Allen Carr
Madame Ambassador Jeane J. Kirkpatrick
Vinyl legend Ahmet Ertegun
Trauma surgeon Robert Freeark
American scholar Seymour Lipset