146 Amazing People
Also in Paperback!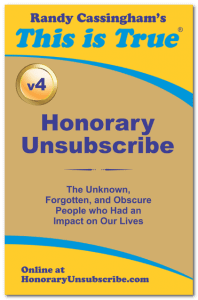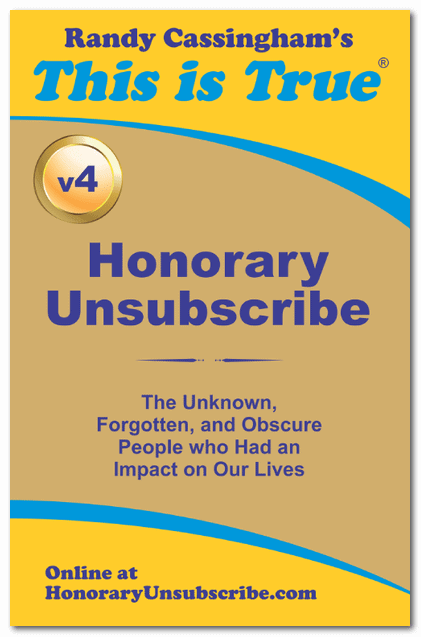 This fourth volume of astonishing people has more amazing inventors: the doctor who invented kidney dialysis. The engineer who came up with the life-saving EpiPen. The writer who thought up the communications satellite — and didn't make a penny on the idea. The chemist who invented the MRI machine. The man who designed the disposable syringe, the tranquilizer gun, the childproof pill bottle, the silent burglar alarm, and more. The doctor who came up with Gatorade, and why it's called that. The engineer who came up with the key technology to allow cell phones to work. The doctor who did the first coronary bypass — and came up with the Mobile Army Surgical Hospital concept, and the TV producer who co-created the TV show M*A*S*H. The guy who figured out a new tire material would make great bulletproof vests.
And then there's the artists, like the man who came up with Bozo the Clown. The founder of Comic-Con. The toymaker who made more than 2 billion toys. The inspiration for Rainman. The designer who created the POW/MIA flag.
The public servants, such as the founder of Habitat for Humanity, and what set him on that path. The woman who suggested to the president that he create a new agency: NASA. The longest-serving police patrol officer known in the history of the United States. Watergate informant "Deep Throat". The pharmacologist who figured out why it's so hard to quit smoking — and came up with a way to help. The nurse who brought hospices to the United States.
And Mr. Wizard!
The mainstream media tend to worship celebrities and sports figures, but the real heroes in life are often anonymous to the public.
All those stories are in this book, plus more than a hundred more (146 total). The stories are fascinating: you won't believe the cool people you have missed in your life. These are the people you will wish you had known.

The Honorees
Included in Volume 4:
Siren turned scary Yvonne De Carlo
Social commentator Art Buchwald
Friend of the homeless Abbe Pierre
Nasdaq founder Gordon S. Macklin
The semiconductive Alan G. MacDiarmid
Educator Walter Sondheim Jr.
Press freedom proponent John Seymour Chaloner
Propagandist Lothar-Guenther Buchheim
Campy actor John Inman
The Smoke-Free Peter VanVechten Hamill
Gene mapper Milton Wexler
MRI inventor Paul C. Lauterbur
Prolific cartoonist Johnny Hart
Reading teacher Marie Clay
Frequent driver Warren Avis
Archivist Robert M. Warner
Laser pioneer Theodore Maiman
Mother Anna Radosz
Physicist Pierre-Gilles de Gennes
Oscar expert Patrick Stockstill
Women's rights pioneer Edwin Traisman
Mr. Wizard Don Herbert
TV Producer Ed Friendly
Super Skipper Eugene B. Fluckey
The very fit Ralph S. Paffenbarger Jr.
Tuberculosis expert George W. Comstock
Cinematographer Laszlo Kovacs
Conservationist Melvin Lane
Civil rights attorney Oliver W. Hill
Big Bang father Ralph Alpher
Oscar Madison model Roy Gerber
Olympic hero Richard Jewell
Inspiring author Madeleine L'Engle
Mickey Mouse marketeer Ralph Kent
The clear-eyed Norman G. Gaylord
The good-hearted Edmund H. Sonnenblick
Screenwriter Charles B. Griffith
Hateful writer Peg Bracken
The constantly evolving Leslie Orgel
Careful listener Chad Varah
Rosemary author Ira Levin
The well-structured Herbert Saffir
Gator-aider J. Robert Cade
Anti-drunk-driving pioneer Robert I McCarthy
Capitol Stepper Bill Strauss
Entrepreneur J. Lawrence Cassingham
Egalitarian governor Lee Sherman Dreyfus
The playful Richard Knerr
WASP Evelyn Pinckert Brier
Photographic enabler Henry Froehlich
Poster boy John Alvin
Helicopter inventor Frank Piasecki
Wendy cinematographer David Watkin
Entebbe raider Dan Shomron
Wingman Donald Lopez
A.I. Heretic Joseph Weizenbaum
Scifi master Arthur C. Clarke
Thinking man's writer Abby Mann
Movie mogul Guy McElwaine
The chaotic Edward Lorenz
The resistant Germaine Tillion
The regretful Philipp von Boeselager
Kiwi tinkerer Colin Murdoch
Smokeless Murray Jarvik
The ignored Sister Catherine Mulkerrin
The Fickle-Fingered Dick Martin
The indestructible Jack Lucas
Breastfeeding advocate Edwina Froehlich
Real character Stan Winston
The high-fidelity Carl G. Eilers
Medical laser pioneer William R. Bennett Jr.
The rosy Bill Lofthouse
Greatest surgeon Michael E. DeBakey
Last lecturer Randy Pausch
Media freedom advocate Clay T. Whitehead
Second half Lou Teicher
Westerner Jack A. Weil
Virus researcher Thomas H. Weller
Sesquipedalian Laurence Urdang
The worldly Don LaFontaine
Typewriter expert Martin Tytell
End-of-an-era owner Henry Z. Steinway
One of the Gang Thomas McDonald
Sign language linguist Edward Klima
Blood doctor Ernest Beutler
Jazz musician Neal Hefti
Inventive telephone researcher Amos E. Joel
White House photographer Cecil Stoughton
Hospice pioneer Florence Wald
Comedy writer Irving Brecher
Slinky entrepreneur Betty James
The Absolutely Fabulous director Bob Spiers
"Deep Throat" informant W. Mark Felt
Book editor Thomas B. Congdon Jr.
The prolific Donald E. Westlake
Number Six, Patrick McGoohan
Jazzy sitcom writer Gordon Mitchell
Toymaker Hans Beck
Habitat founder Millard Fuller
Artificial organ inventor Willem J. Kolff
Cancer researcher John Kanzius
The honorable tabloid Rocky Mountain News
War correspondent Ann Bryan Mariano
Hollywood record label executive Alan W. Livingston
Gymnastics pioneer Glenn Sundby
Newsman Irving R. Levine
Columnist (and spy!) Tom Braden
Banned Books Week founder Judith Krug
Circus scout Timothy J. Holst
Legendary swinger Frankie Manning
Space law expert Eilene Galloway
Citizen lobbyist Robert B. Choate Jr.
Suicidologist Edwin S. Shneidman
The not-forgotten Newt Heisley
Anti-Nazi minister Franklin H. Littell
The once-a-cop, always-a-cop Manuel Curry
Data-mining expert Rajeev Motwani
Shaky inventor John Houghtaling
Super-registrar Sylvia Levin
Hungarian nationalist Bela Kiraly
Principal Frank Mickens
World War I veteran Henry Allingham
Music video pioneer Heinz Edelmann
Accidental medical benefactor Sidney Zion
Australian bushfire survivor Koala Sam
Pro-freedom journalist Malik Akhmedilov
Diagnostician A. Stone Freedberg
Psychological warfare operative Barbara Lauwers Podoski
Parawing inventor Francis Rogallo
M*A*S*H co-creator Larry Gelbart
KKK nemesis W. Horace Carter
Beatles' inspiration Lucy Vodden
Lifesaver Sheldon Kaplan
Heroic teacher Heather Christensen
Airy thinker Richard Whitcomb
Essential scholar Ted Sizer
Rocket scientist Qian Xuesen
Comic-Con founder Shel Dorf
Original Smokejumper Earl Cooley
Seventh-degree black belt Rusty Kanokogi
Bulletproof chemist Lester Shubin
Safety engineer H. Harrison Hurt
Man of 50 stars Robert G. Heft
Fertility savior Walter E. Stamm
Rainman inspiration Kim Peek
Equal-opportunity golfer Bill Powell