The Latest Volume, Coming February 2023
148 Amazing People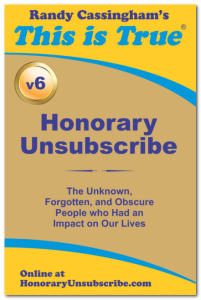 This sixth volume of interesting people includes the guy who came up with a turntable "pickup" that made "high fidelity" records possible. The Secret Service agent that saved Ronald Reagan's life. The woman who saved American parents from the thalidomide prescription drug disaster.
Who was the first U.S. Navy "frogman" — and why was he called that? The guy who made film sound easier to record, and the other guy who made it easier to listen to. The 25-year-old who convinced the U.S. Government to stop censoring American war correspondents (he had to go to the White House to make it happen). The priest who invented the suicide hotline.
The guy who brought the "Sting-Ray" bicycle to Schwinn (it sold millions). The talent spotters who "discovered" later-famous actors and singers. The computer visionaries who changed the world. The woman who changed Wall Street. The doctor who invented the idea of a burn unit. Even the guy who decided to dynamite the Internet-famous "exploding whale."
Scientists, inventors, doctors, professors, writers, reporters, musicians, and more who changed the world in ways you may be aware of, but had no idea who it was that made the change.
The mainstream media tend to worship celebrities and sports figures, but the real heroes in life are often anonymous to the public. Each of the stories will make you realize the cool people you have missed in your midst. These are the people you will wish you had known.
The Honorees
Included in Volume 6:
AMAZING California Lover Huell Howser
Political realist James M. Buchanan
Bundles for Britain founder Lady Malcolm Douglas-Hamilton
Extraordinary collector Larry Selman
Portable audiophile Stefan Kudelski
Immortal character Stuart Freeborn
Talent spotter Mark Kamins
Ethical Surgeon General C. Everett Koop
Honor student Bailey O'Neill
Angel Nurse Mildred Dalton Manning
Polio expert Jacquelin Perry
Anti-censor fighter A.B.C. Whipple
Rocket scientist Yvonne Brill
Repentant racist Elwin Wilson
The ever-Lumpy Frank Bank
Human computer Shakuntala Devi
Comedy director Jack Shea
Father of Cell Biology Christian de Duve
"Sting-Ray" designer Al Fritz
The twisted Charles Burford
Brave soldier Vernon McGarity
Storm Chasers Tim Samaras, Paul Samaras, and Carl Young
Maverick Minister Will D. Campbell
Comedic enabler Bernie Sahlins
Houseware innovator Sam Farber
Futurist James Martin
Computer visionary Douglas Engelbart
Anti-Nazi pilot Nadezhda Popova
Financial journalist James Russell
Humane person Berthold Beitz
SETI Chief John Billingham
Devil's Advocate Jacques Verges
Financial Maverick Muriel Siebert
Music Man Murray Gershenz
Tie-in novelist Ann Crispin
Sound physicist Ray Dolby
Limnologist Ruth Patrick
Visionary neuroscientist David H. Hubel
Visionary mathematician Abraham Nemeth
Child Advocate Dottie Berger MacKinnon
Prison nun Sister Antonia Brenner
Fighter pilot J. Robinson Risner
Frogman John Spence
Exploding Whale icon George Thomas Thornton
Code-breaker Mavis Batey
Big & Small philanthropist Fred Kavli
Computer privacy pioneer Willis Ware
Book publisher André Schiffrin
Free education pioneer Charles M. Vest
Cancer geneticist Janet Rowley
Maple leaf flag designer John Ross Matheson
"Adam Smith" George Goodman
Lunch counter activist Franklin McCain
Sidewalk astronomer John Dobson
Wee Pals cartoonist Morrie Turner
"Shaft" arranger Johnny Allen
Gentleman farmer Walter Cottle Lester
Pianist Alice Herz-Sommer
Mathematician Lee Lorch
Medical historian Sherwin Nuland
Burn doctor A. Richard Grossman
Libertarian Tonie Nathan
Clever POW Jeremiah Denton
Newspaperman and teacher Charles S. Stone Jr
Jesuit priest Frans van der Lugt
NASA engineer John Houbolt
LCD inventor George Heilmeier
Research physician Jacinto Convit
Test pilot James Coleman
Singing cowboy Herb Jeffries
Book editor Oscar Dystel
TV critic Steven Scheuer
Thought-provoking novelist Daniel Keyes
Polymer chemist Stephanie Kwolek
Pilot Rollin King
Rocket scientist Fred Ordway
Olympic medalist Alice Coachman
Virologist Joep Lange
ASL popularizer Robert Panara
Makeup artist Richard E. Smith
Non-smoker Jesse Steinfeld
Chopin expert Jan Ekier
Good listener Helen Bamber
Privacy advocate Hal Finney
Digital pioneer Andrew Kay
Rock producer Cosimo Matassa
Emergency medicine pioneer Gail V. Anderson
Medical informatics founder Morris Collen
Circumnavigating pilot Jerrie Mock
Radio host Luther Masingill
Queer priest Bernard Mayes
Death with Dignity advocate Brittany Maynard
Glass chemist S. Donald Stookey
Anti-war soldier Tomas Young
Director Mike Nichols
The radical Denham Harman
Supercentenarian researcher L. Stephen Coles
Airman Lowell Steward
Network executive Brandon Stoddard
Senator Edward Brooke III
Extraterrestrial roboticist Alberto Enrique Behar
TV sports director Tony Verna
Children's TV campaigner Peggy Charren
Author Colleen McCullough
Chemist Carl Djerassi
Designer Kenji Ekuan
Chocolate magnate Michele Ferrero
Writer and social critic Avijit Roy
Playful researcher Brian Sutton-Smith
Medical philosopher John D. Arras
Ceramic engineer Joel Moskowitz
Film preservationist Roger Mayer
Energy researcher Richard Post
Cop shrink Martin Reiser
Sign designer Betty Willis
Writer Michael Blake
Rocket engineer Oscar Holderer
Lamaze advocate Elisabeth Bing
Ethical university president John Lo Schiavo
EMS pioneer Stanley Zydlo
Typographer Hermann Zapf
Space spokesman Jack King
Comic manager Jack Rollins
Birdmaker Don Featherstone
Beekeeper Burt Shavitz
Animator and sculptor Blaine Gibson
Sitcom pioneer Peg Lynch
Pre-hospital trauma pioneer Norman McSwain
Aeronautic physician Forrest Bird
Fussy bureaucrat Frances Oldham Kelsey
Policeman Edward Thomas
Bartender Sasha Petraske
Acoustic researcher James Flanagan
"Adam-12" training officer Martin Milner
Suicidologist Norman Farberow
The Reverend Everett Parker
Mafia nightmare Joseph Coffey
Presidential protector Jerry Parr
Canadian Caper diplomat Ken Taylor
Children's hospice savior Kirsty Howard
Burn treatment pioneer Howard Green
The very brave Adel Termos
Pickup artist Norman C. Pickering
Space Cadet Al Markim
Real American George Sakato
Ignored hero Tibor Rubin
Solar-powered physicist Harry Tabor
Science fiction writer George Clayton Johnson