(Reading Time:
2
minutes)
Born Warren Schexnider in Abbeville, Louisiana, Storm's father was a Cajun musician, who taught the boy to play drums and guitar. "Played Cajun music," he said. "Country music. Back then they called it hillbilly music." By age 12, Storm was playing gigs, and a trip to New Orleans with fellow musician Bobby Charles Guidry brought in the influence of rhythm and blues. That wasn't the end of the influences. At 16, "I heard Fats Domino — his 45 records. I said, 'That's what I want to play right there.'" Some musicians branched the influences off to Zydeco. Storm and others came up with their own sound, was dubbed Swamp Pop, and Storm was known as "The Godfather" of the genre. Why change his name? "'Schexnider' wouldn't fit on the 45 [rpm record]", he said. "So back in 1956, they had this movie star singer, you remember Gale Storm?" He liked the name, and took it on.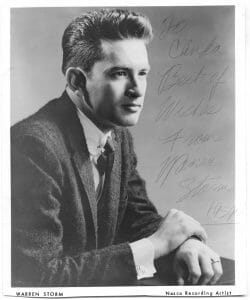 "Without Fats Domino we wouldn't have Swamp Pop because it started with rhythm and blues," Storm said in a 2020 interview. "When I met him, I said, 'Fats, I'm a big fan of yours.' He said, 'Ain't that a shame.'" In 1958 Storm's single "Prisoner's Song" cover hit the national charts. He recorded Swamp Pop for numerous record labels, including Rocko, Zynn, American Pla-Boy, Top Rank, and Dot. In the early 1960s he teamed up with Swamp Pop musicians Rod Bernard and Skip Stewart to form The Shondells, performing concerts and cutting tracks on the La Louisianne label until they disbanded around 1970. Storm kept going: With increasing influence from Rock 'n' Roll, Storm recorded hundreds of tracks with producer Huey Meaux starting in 1964, not stepping away until 1982; Meaux had so many unreleased tracks in the vault, he continued to dole them out into 1986.
The genre still maintains a large following in south Louisiana and southeast Texas, as well as a cult following in the United Kingdom, Northern Europe, and Japan. Storm enjoyed a new surge of popularity around the year 2000. In 2010, he was inducted into The Louisiana Music Hall of Fame. After more than 70 years as a working musician, Warren Storm died September 7, at 84.